High School? Bike school: meet the school where bike fabrication is part of the curriculum
Seniors at Benson Polytechnic High School weld their own custom bicycles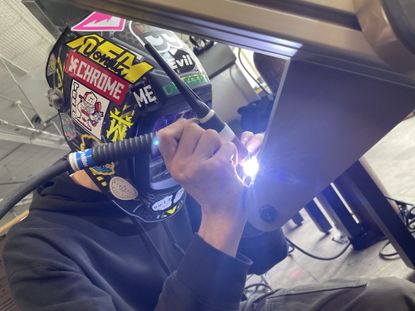 (Image credit: Dan Harrison)
All of us here will agree that the bicycle is a beautiful invention. It's a vehicle for physical and mental health, freedom, a sustainable future and, if you're a student at Portland's Benson Polytechnic High School, a vehicle for learning.
Benson Polytechnic High School is a technical public high school in Portland, Oregon, where, in addition to a standard high school curriculum, students are given a special emphasis in a technical area.
In their junior and senior year, students self-select into an area of specialization, which includes everything from communications technology to various medical fields, automotive technology and manufacturing.
Previously those specializing in manufacturing built bottle jacks for cars, but since longtime bike builder Dan Harrison took over the program three years ago, the senior project is now a hand-welded, fully self-constructed and painted steel bicycle frame.
"Building bikes is my wheelhouse. The bike is my chosen medium for learning welding, structural engineering and all the individual skills" said Harrison. "It works out great because the students get a tangible thing at the end. And no one hates bikes."
Originally from Georgia, Harrison grew up around metal fabrication. His dad was a welder and he spent his youth building tubular chassis race cars. He fell in love with bikes early, working as a bike messenger and bike mechanic but it wasn't until he saw his first custom-made bike, a Nagasawa from Japan, that something clicked for him and a passion was sparked.
He learned as much as he could from a local bike welding hobbyist and then moved to Oregon for engineering school. But his passion lay elsewhere and after ten years of dreaming about building bikes, Harrison decided to attend the United Bicycle Institute for welding to make that dream a reality.
In addition to teaching mechanics and welding his own bikes, Harrison served as a fabricator at Zen Bicycle Fabrication and The Vanilla Workshop, makers of the bespoke Speedvagen dream machines. After several guest teaching stints at Benson, he was eventually invited to take over the program.
Harrison said that while the majority of his students are unlikely to go down the bike building career path, bike fabrication does provide a tangible medium for students to apply all the mathematics, physics and manufacturing know-how they've learned for years.
"Most of my kids don't come into this program really caring about bikes but we get to spend time using our hands and putting the books away and applying everything they've been learning their whole lives," he said.
"Some of my students do want to go on and get an apprenticeship in fabrication, but most kids that graduate from the program go on to an engineering program."
Despite navigating Covid closures and at-home learning, Harrison said his students have responded really well to the bike fabrication project. One of his first graduates even showcased a finished project at the Chris King open house in the late fall.
Jason DiStefano's All-City Mr. Pink-inspired frame features some impressively clean welds and a wild paint scheme.
"I joined the program knowing I'd be making a bike," commented DiStefano, who spent a lot of time perfecting his welding skills.
"We practiced for months on sheet metal. Welding is hard to do right. I mean, it's easy to weld two tubes so they'll stay together but for how long? Consistency and making them clean was the hard part."
DiStefano now attends a machining and CNC program at Clackamas Community College. Upon graduation he hopes to return to Benson to teach.
Harrison said that enthusiasm among students spread quickly and his class has quickly grown. In the coming years, Harrison aims to lead the students into CNC engineering projects to machine their own stems and cranks.
He also hopes to find component partners to help his students complete their custom builds. What a graduation present that would be!
Thank you for reading 10 articles this month* Join now for unlimited access
Enjoy your first month for just £1 / $1 / €1
*Read 5 free articles per month without a subscription
Join now for unlimited access
Try first month for just £1 / $1 / €1
Cycling Weekly's North American Editor, Anne-Marije Rook is old school. She holds a degree in journalism and started out as a newspaper reporter — in print! She can even be seen bringing a pen and notepad to the press conference.
Originally from The Netherlands, she grew up a bike commuter and didn't find bike racing until her early twenties when living in Seattle, Washington. Strengthened by the many miles spent darting around Seattle's hilly streets on a steel single speed, Rook's progression in the sport was a quick one. As she competed at the elite level, her journalism career followed, and soon she became a full-time cycling journalist. She's now been a cycling journalist for 11 years.