How I turned Specialized's budget MTB into the ultimate bikepacking machine
This steed helped me conquer the nearly 400-mile Yomp Rally route in (relative) comfort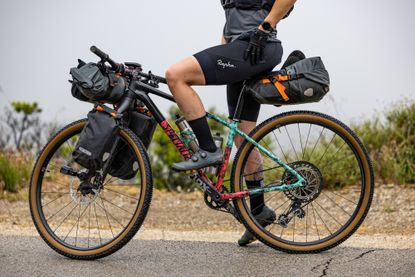 (Image credit: Jeff Clark)
A week before the inaugural Rapha Yomp Rally would be rolling from its Santa Barbara startline, the organizer, Brandon Carmada, set out for a recon of the course. His ride was a bit of a disaster, or, as he called it, "a proper adventure."
Mother Nature had wreaked havoc on California all winter long. Carmada said he ran into some 'problems'. Roads and trails had been completely washed away. Debris and rockfall obstructed others. And at some point, he landed himself an '8-hour trek through the wilderness' before getting a ride out and back to civilization.
A last-minute reroute of the course made the already testing course 10 miles longer and added another 2,000 feet of climbing, bringing the route to 388 miles with more than 42,000 feet of up. The numbers didn't do the actual experience justice, either, and Camarda advised people to be patient with themselves and the course. What's more, despite the fair bit of pavement, he suggested a bigger bike with wider tires stating that he, who'd been on a gravel bike during his recon, would have been "thrilled if a hardtail dropped into my lap during the ride."
"There's no perfect bike for this ride. You'll be under and overbiked at some points no matter which way you go," he said.
So with that information, I revisited my bike options. I'm a notorious underbiker but Carmada's advice gave me pause. Do I want speed for the pavement or capability for the technical dirt roads? The options came down to a light and speedy yet mountless carbon gravel racer - the Specialized S-Works Crux - or a capable rigid mountain bike with better bag-mounting options.
In the end, I chose the latter. On the many miles of pavement, I'll admit I didn't love the upright position, the weight, or the fact that I was about as aerodynamic as a freight truck. But on the dirt, the rowdy descents and the days in the wilderness, I couldn't have been happier. Please meet my purpose-built bikepacking steed.
The Base
My bikepacking steed started its life as a 2019 Specialized Chisel Comp X1, an aluminum hardtail XC mountain bike for the budget-minded cyclist. It's, in my humble opinion, one of the best bang-for-bucks XC rippers you can buy. It's fast, playful and impressively well-specced and light for its price point of $1600 at the time. It was raced by a junior racer before I acquired it and I too would have no reservations about taking this out on a local short track race.
The Build
It was the middle of the pandemic when I acquired the bike so I had some time on my hands for projecting. I stripped it down to the bare frame — paint included. I then rattle-canned the paint job and re-assembled the bike with a SRAM Eagle AXS groupset and a new carbon bar but kept the original wheels.
For extra carrying capacity, I'm rocking a rigid, Niner Bikes Carbon RDO Disc bikepacking fork. This fork has clearance for 29x3.0" tires and ample accessory mounts for fork bags.
The Yomp Rally Setup
At the Yomp Rally, I used all Ortlieb bags, including two fork packs, the 9L Handlebar-Pack, 11L Seat-Pack and my favorite: the Accessory Pack. These are all of an older generation but still going strong. It was a good thing I brought these too because we started off the ride in rain and Ortlieb is reliably waterproof.
With a projected 30-40 hours in the saddle, I worried about hand positions as a flat bar doesn't offer much in the way of variety. I played with adding the PRO Compact Carbon Clip-On mini aerobars but ultimately decided against them in favor of easy access to my accessory bag. I did, however, got introduced to Togs and became an instant convert. These little thumb grips bolt on in front of your bar grips and provide a change of hand position for comfort and less hand fatigue. In addition to comfort, I found that they added control on the descent and more leverage when climbing. It's a $30 upgrade, I'd highly recommend. Even so, a week after completing the event, my hands continue to alternate between numbness and tingling.
I fitted a Portland Design Works Light Nug to the lowest accessory mount on my fork, fitted with Outbound's self-contained Trail Evo light. I wasn't planning on pushing through the night but wanted to be prepared all the same.
Once I decided on my bike, tire choice was the next biggest conundrum. Slicks or knobs? Speed or capable? I decided on somewhere in the middle: the Rene Herse 48mm Oracle Ridge gravel tires with endurance casing, which were designed with input from ultra-endurance pro Lael Wilcox and specifically for mixed-terrain adventures. Knobbed, wide and with plenty of flat protection, these tires served me very well. There was traction on the dirt when I needed it and they rolled supple-y and without too much drag on the many paved miles in between. (Look for our full-length review soon!).
All in all, I was overbiked but not unhappy about my setup. And I look forward to many more bikepacking adventures on this rig. For the Yomp Rally specifically, the only bikes that would have fared better, I think, are a mountain bike with drop bars or an adventure-oriented gravel bike with plenty of accessory mounts and a suspension fork.
Gallery: What Others Were Riding
Image 1 of 5
Thank you for reading 20 articles this month* Join now for unlimited access
Enjoy your first month for just £1 / $1 / €1
*Read 5 free articles per month without a subscription
Join now for unlimited access
Try first month for just £1 / $1 / €1