Inside Hell - Behind the scenes at Paris-Roubaix Femmes
Cycling Weekly jumped in one of the Drops Le Col team cars to watch the glorious chaos of Paris Roubaix unfold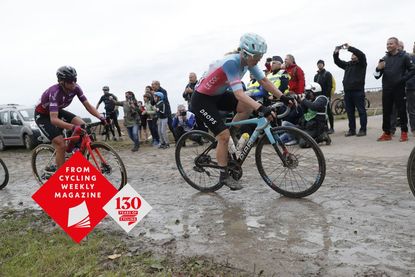 (Image credit: Getty images)
Get The Leadout Newsletter
The latest race content, interviews, features, reviews and expert buying guides, direct to your inbox!
Thank you for signing up to The Pick. You will receive a verification email shortly.
There was a problem. Please refresh the page and try again.
Knees bloodied, body bruised face liberally splattered in mud Lizzy Bennett is still smiling. The Welshwoman hasn't won, in fact she hasn't even made the timecut at the first ever women's edition of Paris-Roubaix Femmes but if there's anyone that seems to sum up the mood on this sodden afternoon in northern France it's her.
"I'm good now, maybe not so much a couple of hours ago," she says laughing and still wiping the mud off her face. "I was in the front group and maybe on the third sector in I crashed and I'm not saying my day was over from there but I was on the back foot. I ended up crashing three times. It was a mudbath on most sectors to be honest, each time I just lost the front wheel and went down.
>>>Subscribe to Cycling Weekly magazine and get more great features from the pro scene
She adds: "I've scratched up both my knees and my elbows as well. Looking back now it was a pretty surreal experience, during the race I felt good but because it was wet it was just pot luck if you stayed up."
We wonder if she thought about quitting, there's no hesitation in her answer: "No. It's just such a historic race, it's just so cool to say you've done it."
She was not alone in trying but failing to finish within the 14minutes of winner Lizzie Deignan that was required and yet still pushing on to the Roubaix velodrome. The race may have been a relatively modest 116km long but with 28m of cobbles it had blown the peloton to pieces with more than a third of the starters refusing to give up on their spot in history despite being so far back.
It had taken years to reach the cool sunny morning of the race in Denain. The women's race only been added to the calendar for the delayed and subsequently cancelled 2020 edition but bike brands, notably Specialized, had been campaigning for it for years before that.
Some of them have been preparing for even longer.
"Roubaix is actually one of the first races I can remember," recalls the team's protected rider Marjolein Van 't Geloof, known as Mayo by her team-mates. "It was the last wet one, I was about five or six years old. I've watched all of the races and I know almost all of the winners. That year I remember Johan Museeuw won and Tom Boonen was second and Museeuw said, 'You're the new king now,' to Tom."
Today she's hoping for a top-20 finish and thinks a top 10 may be possible. However, in the days before the race she says she was trying hard not to think about it. "It's hard because all of Instagram and Facebook was all about Roubaix. It feels a bit like an exam that you've studied really hard for and days before you don't want to look at it again because it will just freak you out."
She found a distraction last night was to paint her nails a bright red. "I'm a physical therapist so I don't get to do my nails a lot and next week I will be at the Women's Tour. So as today was special and I don't have to go back to work I could do my nails."
Banging tunes
With that Mayo and her team-mates all hop on the turbos for a warm-up ahead of the 116km race. This, by tradition we're told, is done to a mix of house, pop and R'n'B curated by the riders, blasting from a portable speaker. It explains why team mechanic Simon Wainwright remarks that all the other teams seem to stop by the Drops camp at each race. This here is the peloton's party bus.
With riders suitably amped they head to the start and I jump in the team's mini-bus. My job for the day would be carrying wheels and bottles to three points on the course in the company of team soigneur Jeroen Braekevelt and ex-Sky rider Jon Dibben, who was bringing a wheel for his partner Abby Mae Parkinson's team Lotto-Soudal and handing out bottles to Drops riders as a way of paying his way for the lift.
We can only make it to three spots and so several members of the extended Drops-Le Col family, the fathers, mother and boyfriends of both Sara Penton and Emilie Moberg, have been roped in to provide just such assistance at various other points on the course. They come with varying levels of preparedness. Penton's boyfriend Oskar Djärv is a mechanic and is confident he can change a wheel quickly; Moberg's partner Roy admits his choice of sparkling white trainers to navigate Paris-Roubaix's mud-splattered tracks may have been a major error; while Moberg's father, also called Roy, says: "When the riders are juniors the parents have to support them but when they're professional we're not normally part of the service crew, so I'm a bit rusty."
Roubaix proof: Kitted out
You always need some luck in Roubaix but you can maximise it with the right equipment. On the morning of the race there is much discussion of tyre sizes and pressures – the only suspension most have available against the jarring cobbles.
The Drops riders had done extensive testing on the cobbles with team sponsor Mavic, their bikes now kitted out with 32mm tyres at an eye-wateringly low 45psi for most; each has their own set of tyre pressures.
Though the team's bar tape has also been changed to something with more cushioning, team mechanic Simon Wainwright explains that the riders didn't want them double wrapped as it made the bars, most of which had winged tops, a bit too big for smaller hands to get a good grip on.
Peloton splintered
It's a short sprint to the end of the first secteur of cobbles including Braekevelt taking a few speed bumps with enthusiasm. "That's why you get a rental car at Roubaix," he remarks. We stand just off the cobbles on a nondescript residential street ready to assist.
Dibben and I are just idly discussing who might do well today and agree that Lizzie Deignan probably isn't in good enough shape right now to contest the win when she comes blazing past us by inches. There's a sizable gap to the main chase, which itself has thinned out considerably, but encouragingly still includes two Drops riders. Behind is a steady stream of smaller groups, a five a six, and soon just ones and twos. Some bear the tell-tale sign of a mud-caked side that shows they've been on the ground. One Arkéa rider comes past with her chain flapping, shouting angrily in French. There's been under an hour of racing and already it's every woman for herself.
It's not just the riders that have high stress levels, the race is now on for us too, and Dibben and I run back to the van (he is fitter and faster than me), wheels in hand as Braekevelt rides the spare bike – we've only got around 30 minutes to make it to Mons-en-Pévèle. As we hit the motorway we get word that Emelie Moberg has crashed badly with another team's car. Her bike is in four pieces. The early word is that she seems OK but will be taking a trip to hospital. Luckily she was able to get medical help. Braekevelt tells me that his phone number is written on the back of all the riders' race numbers in case they should need rescuing – it is not unusual for riders to be out the back of the convoy here.
On the fly
We fly through the streets avoiding the worst of the traffic, Braekevelt using a mix of his own local knowledge, VeloViewer and Google Maps to make adjustments on the hoof. Only when we reach the race roadblock is there a problem. Team vehicles want to get through to continue on the course for a short period after the race passes through but the gendarmerie seem disinclined to let it happen. Several squads, including BikeExchange, tell us they have already tried to plead their case, failed and parked up on the side of the road resigned to their fate. Braekevelt is having none of it. He leaps out of the van and rushes to speak to the police. Moments later he climbs back behind the wheel as the officer moves the barrier to let us pass. He clocks the look of astonishment on the faces of Dibben and me. "Mafia," he says with a cod-Italian accent and a big grin.
We station ourselves on the first rise out of the cobbles, the TV helicopter can be seen not far away and we can watch the riders approach, small against the endless French countryside. The tailwind is fierce here and it doesn't take long before Deignan comes past and we calculate her lead is probably unassailable now. Further back Mayo is beginning to lose contact with the chase group, which has splintered on the five-star secteur of cobbles. Lotte Kopecky passes on a bike that's clearly too big for her; a forlorn look over her shoulder confirms assistance from her team is still some way back down the road. Dibben tries to hand Abby Mae a bottle but it drops to the floor. "She'll moan at me for that," he says.
The rest of the Drops-Le Col team, much like the rest of the peloton, is spread all down the road. Any thoughts of a result for these riders have long since disappeared, all that remains is staying upright and making it to Roubaix. More riders are mud-covered now, most notably the pristine white jersey of world champion Elisa Balsamo, and the crashes mount up. Some are bleeding. All have a look of grim determination and shock in equal measure.
Unscheduled speed
There are still riders coming through as we get underway and Braekevelt has to be careful not to hit any as we swing off the course straight into a traffic jam that blocks the road. We snake through as fans obligingly put their cars into bushes and ditches. The peloton is up on even the fastest published schedule and the urgency is mounting – we don't have long to get to the Carrefour de l'Arbre.
We're not the only ones. Canyon-SRAM's car pulls off an ambitious high-speed overtaking manoeuvre just ahead of us. "Crazy Germans," says Belgian Braekevelt. We're making good progress through the small streets until we hit roadworks that force us to wait for three minutes and there's a genuine fear we might miss the race – we have to get through the barrier before the riders arrive. We get there with mere minutes to spare and there's more running to make it to the side of the road in time. As they exit the Carrefour the rain is beginning to fall in earnest. Deignan comes past, teeth gritted, and Marianne Vos is in hot pursuit. Mayo has much the same look as she battles for the top-10 place that she had felt was in her reach at the start of the day. A steady stream of riders skitter past – the end is in sight now and some even have the faintest hint of a smile, the worst is over.
Heavy showers
We have to wait a while for the last in the blue and pink kit, Bennett, to appear but she too pedals on.
The race is over by the time we reach the velodrome. The clean-up has begun and it's notable that the women's peloton has really embraced the chance to use the iconic, if very industrial, Roubaix showers – perhaps a product of most not having buses with their own facilities.
In the Drops camp there is concern for Moberg but there's no word as yet on her condition, though later we'll find out she was concussed and had to have an operation to reattach a tendon in her hand. Her bike hangs on the railings, fork snapped at the crown, bars in two pieces like a memorial to her efforts today.
But there is also happiness. For starters the team didn't suffer a single puncture, a fact Wainwright is very proud of, and Mayo claimed 13th place and is more than happy with that result. "It's the best I could do today," she says. She's pretty pleased just to have stayed upright. "There was a big race into the secteur before the Carrefour de l'Arbre because everyone knew it'd be carnage and I just couldn't push too much to get in the top five. Midway Nico was calling in the radio to say it was really muddy and people were going to crash. In front of me Christine Majerus, Ellen van Dijk and Sarah Roy crashed, they all went over and I just barely kept it up. I put my foot down actually and then my leg cramped up. After that I was just trying to keep a steady pace. I did the Carrefour on my own, which was a really great experience but quite painful. I got joined with a Movistar rider and Majerus and I've just said to please bring me to the finish. I couldn't do anything anymore."
Something special
The inaugural Paris-Roubaix Femmes has taken its toll. But there is no doubt that the drama of those roads has added something special to the world of women's cycling and from those getting a result to those missing the time cut they'll all be hankering to take to the start line again in the spring.
This article originally appeared in the October 14 issue of Cycling Weekly magazine, available to buy online. You can also subscribe to the magazine, take advantage of a discount on the cover price and get it delivered to your door every week.
Thank you for reading 20 articles this month* Join now for unlimited access
Enjoy your first month for just £1 / $1 / €1
*Read 5 free articles per month without a subscription
Join now for unlimited access
Try first month for just £1 / $1 / €1
Get The Leadout Newsletter
The latest race content, interviews, features, reviews and expert buying guides, direct to your inbox!
Having trained as a journalist at Cardiff University I spent eight years working as a business journalist covering everything from social care, to construction to the legal profession and riding my bike at the weekends and evenings. When a friend told me Cycling Weekly was looking for a news editor, I didn't give myself much chance of landing the role, but I did and joined the publication in 2016. Since then I've covered Tours de France, World Championships, hour records, spring classics and races in the Middle East. On top of that, since becoming features editor in 2017 I've also been lucky enough to get myself sent to ride my bike for magazine pieces in Portugal and across the UK. They've all been fun but I have an enduring passion for covering the national track championships. It might not be the most glamorous but it's got a real community feeling to it.