Kreuziger's Giro plans allow Vino Tour leadership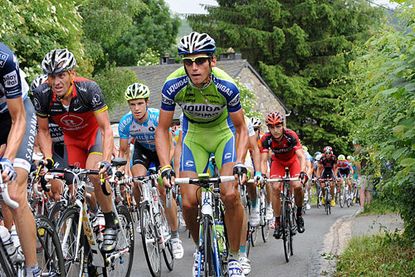 Roman Kreuziger will put aside his Tour de France ambitions to allow Alexandre Vinokourov absolute leadership. The decision was made this week when Kreuziger met his new Astana team in Pistoia, Italy.
"Other years it was the Tour de France because it is the biggest race in the world, but for next year, the goals have changed," said Kreuziger in a press release. "My first objective will be the Giro d'Italia and from now until the Giro, I only have this race in mind."
The three-week Giro d'Italia starts on May 7 in Turin and ends in Milan on May 29. Kreuziger has previously excelled the Tour de France, finishing ninth overall in the last two editions. He will skip the Tour de France and plans to race the three-week Vuelta a España in August and September.
Kreuziger changed his team, and his race programme, when he left team Liquigas for Astana at the end of this year's racing season. Team Astana's founder, Kazakh Vinokourov wants to be the team leader at the Tour de France after the departure of three-time winner Alberto Contador. Vinokourov's decision leaves 24-year-old Kreuziger to lead in other races, like the Giro d'Italia.
"There are so many different races, the one-day races and stage races. Personally, I prefer stage races, especially Grand Tours," said Kreuziger.
"I think my role is pretty clear, I raced for five years for a team and I got to the point where I feel ready to become a leader."
Vinokourov started team Astana with financial backers from Kazakhstan in 2006. He was forced out of the team by a positive test for blood doping at the Tour de France in 2007. After serving a two-year suspension, he returned to the team, which Contador had joined.
He supported Contador this year and won a stage along the way. With Contador gone, he will target his fourth stage win and maybe the overall classification.
"In principle, there are some good stages," Vinokourov told Astanafans website last month. "The team time trial, then there are some there are some difficult stages in the part of France where I lived for two to three years, in the mountains...
"We have to bet on Kreuziger for the Giro d'Italia, I think he can win next year's race, or at least on a podium finish."
Thank you for reading 20 articles this month* Join now for unlimited access
Enjoy your first month for just £1 / $1 / €1
*Read 5 free articles per month without a subscription
Join now for unlimited access
Try first month for just £1 / $1 / €1