Braveheart 2014 funded riders announced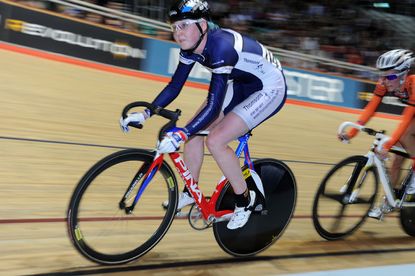 The Braveheart Fund, set up in 2003 to support young Scottish cycling talent, has revealed its 13 supported riders for the 2014 season. In a Commonwealth Games year, a number of the riders will be expected to make the Scottish road, track and mountain bike teams in August.
Last year Kate Archibald was an unknown talent outside of Scotland, but, backed by the fund in 2013, the 19 year old made it to the World championships. Archibald will be funded again in 2014, as will road and track riders Charline Joiner, Eileen Roe and Kayleigh Brogan. On the road, Louise Borthwick, Lucy Coldwell and Claire Thomas will also receive backing.
On the men's side, British national Under-23 cyclo-cross and XC mountain bike champion Grant Ferguson and fellow mountain biker Kenta Gallagher will be getting fresh Braveheart T-shirts in the mail, as will Craig Wallace, track sprinters Callum Skinner and John Paul and new endurance track rider, 18 year old Mark Stewart.
In addition to individuals, four regional squads, all aimed at developing young talent, will also benefit from funding – the Glasgow Cycle Team, Spokes, West of Scotland association (WOSCA) and Edinburgh Road Club.
Brian Smith, one of the founders of Braveheart said: "The plan with Braveheart was to help Scottish riders compete abroad and that's still the focus. It's going to be a big year with the Glasgow Commonwealth Games, but I think Braveheart riders will play their part."
Team Sky's Alex Dowsett, Ian Stannard and Russell Downing among the guests as John Paul picks up the fund's cyclist
Katie Archibald has seemingly come from nowhere to become part of Great Britain's all-conquering women team pursuit squad
Thank you for reading 10 articles this month* Join now for unlimited access
Enjoy your first month for just £1 / $1 / €1
*Read 5 free articles per month without a subscription
Join now for unlimited access
Try first month for just £1 / $1 / €1