16-year-old cyclist Joseph Guy died in 'genuinely tragic accident' with van, inquest concludes
Promising time triallist was killed in collision in May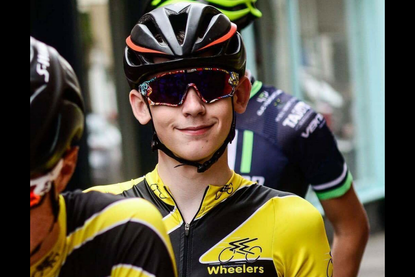 Joe Guy, the 16-year-old cyclist from Wolverhampton who was killed in a collision with a van in May 2017, died in a "genuinely tragic accident", a coroner's inquest into his death has concluded.
A promising young time triallist with a sub-22 minute 10-mile time trial to his name, Guy was on a training ride with a friend when he was struck by a van on May 31, dying at the scene near Four Ashes, Staffordshire, despite the efforts of paramedics.
The inquest heard how the van driver, who did not attend the hearing, was preparing to overtake Guy when the collision took place, with Guy moving out from the left-hand side of the road in an apparent attempt to make a U-turn.
The Express and Star reports that the van driver was travelling at approximately 36mph along the 50mph road, braking to around 19mph at the point of the impact, in which Guy suffered fatal head and chest injuries.
PC Richard Darby of Staffordshire Police said that a motorist travelling in the opposite direction had seen Guy indicating to the van driver that he was intending to turn around, which may have been interpreted by the driver as a signal to overtake (although the van driver did not mention such a signal in his interviews with police).
However Guy's father told the hearing that his son was an experienced cyclist and would have known which hand signals to use.
Speaking at the conclusion of the hearing, Coroner Andrew Haigh said that Guy's death was accidental, and a combination of Guy's own misjudgement and the van driver being too close.
"It is a possible explanation that Joseph has indicated a turnaround manoeuvre then made a right turn hand sign as well," Haigh said. "I take the view Joseph misjudged the situation and ended up turning or moving out in front of the LGV which was far too close."
"On the balance of probabilities I do not think this can be described as a road traffic collision but a genuinely tragic accident."
More than 300 cyclists turned out for a Wolverhampton Wheelers memorial ride a week after Guy's death, with more than £3,500 raised on the day for the Air Ambulance service, in addition to the £6,400 which has been raised online.
Thank you for reading 20 articles this month* Join now for unlimited access
Enjoy your first month for just £1 / $1 / €1
*Read 5 free articles per month without a subscription
Join now for unlimited access
Try first month for just £1 / $1 / €1