20 things for cyclists to do in 2017
This is the time of year when cyclists make plans, Cycling Weekly presents 20 things you might want to do in your 2017 cycling year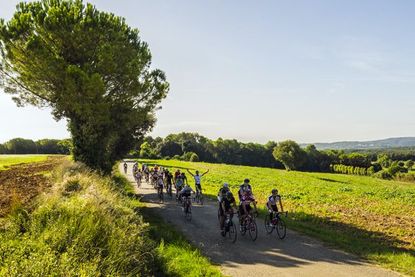 1. Watch the big international cycling stars on British roads
Great Britain may have possessed some of the biggest international cycling stars in the past few years, but it's only now that the top-level men's WorldTour is paying a visit to British shores.
The RideLondon-Surrey Classic on July 30 has been awarded WorldTour status by the UCI for 2017, bringing in a host of top riders and giving British fans the chance to see the best racers in action.
Britain has already hosted a round of the women's WorldTour – in 2016 the Women's Tour occupied a slot in the top tier women's calendar.
Then there's the ever-popular Tour of Britain, which seems to boast a start list that gets better and better each year, and the Tour de France Grand Départ legacy event, the Tour de Yorkshire.
If you are organised enough, it's easy to go and watch any of these races – just make sure that you find your spot by the side of the road early.
2. Ride Coast to Coast
There's nothing like starting out next to one sea and travelling to another. You could do one of the big island crossings, such as Land's End to John O'Groats in the UK or Malin to Mizen in Ireland. You could do it yourself or go on an organised bash, such as the Deloitte Ride Across Britain (September 9-17 - www.rideacrossbritain.com). But there are shorter coast to coasts.
The Trans Pennine trail is a fascinating journey, and it's mostly off-road. It starts next to the North Sea in East Yorkshire and meets the Irish Sea in Lancashire. The other great English coast to coast runs parallel to it but further north, between Cumbria and North Yorkshire Yorkshire. And in Scotland Fort William to Inverness is easily doable in a day, and that sets the theme for lots of other DIY coast to coasts.
There are hundreds of Atlantic Ocean to English Channel crossings in Cornwall. In Devon too it's possible to ride from the Bristol Channel to the English Channel, along the beautiful A396 between Minehead and Exeter in a day.
Other short coast to coasts include the Bristol Channel to St George's Chanel across Pembrokeshire, or the English Channel to the North Sea across Kent. And there are 133 islands around Great Britain and Northern Ireland. Some are private, some haven't any roads or any regular access, but the rest offer a world of coast to coast opportunities. So get the map out, pick two seas and get riding.
3. Support your local bike shop
We've nothing against the big chains or on-line retailers, they offer good bargains through economies of scale, but local independent bike dealers can offer something money can't always buy. They can offer knowledge, service and care, and they provide a hub for local cycling networks.
Use them, make friends with them and spread you shopping so it includes them. That way they'll always be there when you need them.
4. Race
We know that racing isn't for everyone, but if you haven't raced and you are fit enough to race then you really should give it a try, at least once. Cycling is great, it's fun, it's free and you can be competitive without racing, but there is just that extra buzz and extra edge when you pin a number on your back.
And it doesn't matter if it's the Tour de France or a taster in the park, a race is a race. If you don't like it after trying then fine, but give it a try.
5. Get a retro bike
This is the next bike that everybody needs. By retro bike we mean pre-1988, so if it has gears there must be operated by separate gear levers. And gears shifts must be held by friction, not by a ratchet click, so no indexing. Frame materials will be steel or aluminium, they might be carbon fibre, but pre-1988 carbon fibre frames are as rare as hen's teeth. The frame definitely won't be made in a mould, unless it's one of those Kirk Precision magnesium jobs.
Retro bikes aren't as light, or as efficient, or as nice to ride as modern bikes, but they are handsome. Made by the skill of human eye and hand, their lustrous paint, shining aluminium and glittering chrome are redolent of another age. An age before CAD design and fluid dynamics removed the artisan's hand.
Retro bikes are quite easy to buy on the internet or in classified ads or at cycle jumble sales, but hurry, interest is growing and bargains are being snapped up. There are lots of enthusiast websites where you can get help with renovations. Then as well as owning a thing of beauty, you can take part in organised rides like Eroica Britannia, which has rapidly grown in popularity since its inaugural year in 2014. www.eroicabritannia.co.uk
6. Visit a bike show
The biggest in Britain is The Cycle Show at the NEC in Birmingham (September 22 to 24 2017), but there are others, including smaller ones, and the massive Eurobike in Friedrichshafen, Germany (August 30-September 2 2017).
You'll see the next big things in bikes, equipment, gadgets and clothing; plus there's a lot more theatre and less hard sell at a modern bike show than there used to be. They are fun to visit, and you'll almost certainly bump into somebody you haven't seen for ages.
7. Ride the Cycling Weekly Sportives
They are the Wiltshire Wild Cat on March 4, South Downs Spring Classic on April 1, Dartmoor Demon on April 29, The Arrow on May 6, Surrey Hills Cyclone on May 20, Ripon Revolution on July 1, Suffolk Spinner on July 30, Malvern Mad Hatter on September 30 and the Box Hill Original on October 8. Full details at www.cyclingweekly.com/sportive-series
8. Get some off-road therapy
Remember when you had a bike as a kid? Wasn't the best thing bombing around the woods or over open country, even doing tricks in the back yard? Get in touch with your inner child in 2017 and do it again.
Off-road riding is fun, and you don't need a special bike to do it, a road bike with heavier tyres is fine for woodland tracks and bridleways. Get an Ordnance Survey map of where you live and plot a course, bikes can go on all bridleways. They are the longer dashed red lines on OS maps. Try it, off-road riding is two-wheeled therapy.
9. Watch the road race National Championships
They were always special, but now that the UK has come into line with the rest of cycling, and the time trial and road race titles are held in the same week, they are the high point of the road race season.
It's a chance to see some of the UK's top cycling talent riding for the coveted national champion's jersey on home roads, with many continental-based pros making the trip back to Britain.
The venue and dates for the 2017 championships have yet to be announced, but they usually take place at the end of June.
10. Ride Britain's oldest time trial
The Tour of the Trossachs has been going since 1943 – although it was missing from the calendar in 2016 due to untimely roadworks. It's held in the stunning National Park just north of Loch Lomond around a 28-mile route that includes one mountain pass, runs alongside Loch Venacher, and starts and finishes in Aberfoyle. The race has been won by the best of Scottish cycling, including Robert Millar, Graeme Obree and Jason McIntyre.
It's an official Cycling Time Trials event organised by the Ivy Cycling Club, so you'll have to be in a CTT affiliated club or take out your own affiliation with CTT. It's usually held in early October. Details will be on www.ctt.org.uk
11. Visit the Vlaamse Wielerweek
Flanders is the land of bikes. Flemish towns and cities move at the pace of the pedal, and every country road has felt the kiss of a racing tyre. Bikes are sport and transport in Flanders, and the biggest annual cycling festival is Vlaamse Wielerweek. It's the focus of every cycling year in Flanders, and consist of five races that are the essence of Flemish cycling.
It builds to a crescendo on the magical first Sunday in April, the day of the Flanders monument, the Ronde van Vlaanderen, the Tour of Flanders in English and affectionately known all over the cycling world as The Ronde. And Vlaamse Wielerweek is actually 12 days long, but they don't let facts to get in the way of a good narrative in Belgium.
The 'week' starts on Wednesday, March 22 in 2017, with the Dwars door Vlanderen, or Across Flanders in English. This race starts and finishes in Waregem, and the route covers many of the Tour of Flanders climbs. Next up is Friday's E3 Harelbeke (March 24), which doesn't go up and down the E3 motorway, but is another trip around the Flanders hills, the Flemish Ardennes, which are in East Flanders.
Sunday sees the spotlight shine on Ghent-Wevlegem (March 26), which traces a route from near Ghent to the Flemish coast then goes inland to hit the West-Flanders hills. It's back to the coast again on Tuesday to Thursday for the Three Days of De Panne, then Sunday April 2 is the Tour of Flanders.
All the races come under an umbrella group called The Flanders Classics, so details of each can be found on their website www.flandersclassics.be
12. Get someone else into cycling
Spread the word. Cycling is still growing as a popular past-time in Britain, but there may be someone you know that has yet to discover the delights of bike riding. That could be a member of your own family, a neighbour, a friend, a work colleague...
Organising a very informal, short group ride on a summer's day to a scenic location - preferably with a café stop - is a sure-fire winner for getting people bitten by the cycling bug. The more, the merrier, as they say.
13. Lobby for cycling rights
Cyclists are getting heard, but there are still people who won't listen. Our streets are busy, and by and large they aren't bike friendly. Lots of people are working to improve the situation regionally and nationally, but they need the support of individual cyclists bringing the fine detail to attention. So your local pot-holes, dodgy junctions or inadequate or even unsafe cycle lanes all need flagging up to the authorities.
Report pot-holes here https://www.gov.uk/report-pothole
Support and get involved with cycling campaigns through www.cyclenation.org.uk
But above all take care of yourself while considering other road users too.
14. Go see the Tour
Every cyclist has to see the Tour de France at least once, and we mean see it in the flesh. You can watch it for hours on the TV, read about the Tour, study its history, but you won't get the measure of it until you've stood by the roadside and watched it, heard it, felt it, and smelled it.
The Tour is more than big, it's more than a race, more than a tacky advertising jaunt. It's outside of normal, beyond other cycling experiences. You might not even like it, but you will understand it and be able to quantify it only if you've seen it. In 2017, it starts in Dusseldorf, Germany, on July 1 and finishes three weeks later in Paris on July 23.
>>> Full details of the 2017 Tour de France route
15. Try something different
What about Ride the Lights? It's a family ride in Blackpool at night along the sea front under the famous illuminations. Details on the Ride The Lights website.
Keeping up the night riding theme, the NightRider events celebrate riding at night in groups with a chance to raise money for charity. There will be three NightRider events in 2017, in London (June 10/11), Bristol (July 1/2) and Liverpool (July 15/16). See www.nightrider.org.uk
What about riding to another country. London to Paris is the most obvious, and there are organised London to Paris rides for charity, such as this one www.londonparisbikeride.co.uk . You can do it yourself, planning your own route and booking accommodation. There are some great tips on DIY on www.london2paris.co.uk.
Then there is London to Paris, the race on July 20-22. It's the nearest money can buy to being in a big pro race, and although entry is expensive, if you can afford it, it's a very well organised experience. www.londres-paris.com
And there's always the London Naked Bike Ride http://wiki.worldnakedbikeride.org/wiki/London. Okay, we'll stop now.
16. Donate a bike
Re-Cycle Bikes to Africa is a charity that does just that, it re-cycles old bikes and send them to Africa, where instead of being scrapped they are put into use and they can make a huge difference to people's lives. Their website www.re-cycle.org explains
17. Enjoy a city centre criterium
Criteriums are some of the most exciting races in cycling. British criteriums are one hour maximum, and they are action packed from start to finish. The televised Tour Series and the Elite Circuit Series see the best riders in the country race, and British riders are the best in the world on tight city circuits. But criteriums at any level are great to watch.
The Tickhill Grand Prix is a classic, and is scheduled to return in 2017 after a year's absence. It's an afternoon of criteriums for all ages and levels run on a largish closed roads circuit in the centre of a pretty Yorkshire village, and it's testament to what can be done with enthusiasm.
The races are superbly organised by a young cycling club, Tickhill Velo, and are a model for what grass roots road racing could look like throughout the country.
Tour Series www.tourseries.co.uk
Elite circuit series www.britishcycling.org.uk/elitecircuitseries
Tickhill GP www.tickhillvelo.com
18. Join a cycling club
Cycling clubs are a force for good. Go back in time and they have been a force for change, too. The Clarion cycling movement helped change the social landscape of Britain. And cycling clubs have a big role to play still.
Cycling clubs put on races, they are a reservoir of knowledge, and a practical way to learn cycling. And learning cycling is important. It's a technical sport with lots of subtle skills that aren't obvious at first, but once you master them they give you much more back.
Okay, some old school cycling clubs did have a reputation for being a bit fierce. It was tough love in most cases, but it put people off joining. That has changed. Most cycling clubs today are welcoming, and as ever they have some amazing people in them.
But if you can't find one you like then start your own, it's not hard, there's all the info you need on the British Cycling website www.britishcycling.org.uk. Once you are in a club a whole world opens up. You can race, you can share information and experiences, and many clubs have facilities and discounts that you can take advantage of.
You can get membership of British Cycling too, and the more cyclists who are members of BC then the bigger our footprint is on the national radar.
19. Ride the National Byway
The National Byway is a 3,200-mile signposted route through Britain. It was mapped out and every inch of it ridden by the super-experienced cyclist, Mike Breckon. He started cycling in 1950s Yorkshire, exploring the roads less travelled of his native Dales. He was a good racer, a British Best All-Rounder team champion, but it's his club run roots and an uncanny knack for finding lovely quiet roads is the DNA of the National Byway.
To even be considered Breckon's roads had to have a maximum two percent of the national average traffic flow. The rest is down to his eye for landscape, his knowledge of maps, and his innate feel for what makes a perfect cycling road. The National Byway is a national cycling treasure. Visit the website www.thenationalbyway.org and start exploring it in 2017.
20. Follow Eddy
Once, when the great Eddy Merckx was asked what piece of training advice he would give to a young rider, he said; "Ride, lots. It doesn't matter about the bike, take any bike, but ride." Take those words with you and enjoy your cycling in 2017.
Thank you for reading 10 articles this month* Join now for unlimited access
Enjoy your first month for just £1 / $1 / €1
*Read 5 free articles per month without a subscription
Join now for unlimited access
Try first month for just £1 / $1 / €1
Freelance Journalist & Author
Chris has written thousands of articles for magazines, newspapers and websites throughout the world. He's written 25 books about all aspects of cycling in multiple editions and translations into at least 25
different languages. He's currently building his own publishing business with Cycling Legends Books, Cycling Legends Events, cyclinglegends.co.uk, and the Cycling Legends Podcast