"Andy Schleck was my biggest rival" says Alberto Contador
Alberto Contador described the recently retired Andy Schleck as the rider he "battled most with" during his career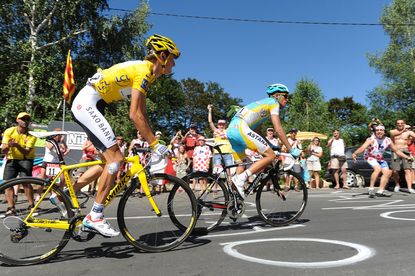 Alberto Contador has said that the now retired Andy Schleck was the "biggest rival" of his whole career so far, placing the Luxembourger in higher esteem than current rival Chris Froome.
Schleck, who quit professional cycling after suffering a bad knee injury in the 2014 Tour de France, finished runner-up to Contador in two editions of the Tour in 2009 and 2010 before subsequently being awarded the latter after the Spaniard had it stripped for doping.
Contador was speaking to Velo Magazine, after winning the prestigious Velo d'Or award for the fourth time, when he paid homage to Schleck, saying that he could have been one of the most talented riders of his generation.
"Andy was my biggest rival, much more so than Froome, who has only arrived in the past two years," he said.
"I battled the most with him [Schleck], and I spent some very cool moments with him too."
"The most gifted of all? I don't know but maybe, the problem is that he had a very full life outside of cycling.
"Perhaps he didn't always have the super-organised, strict life of a bike rider, but he always managed to be on top form for one race in the year. And not just any race, but the Tour. Nobody else knew how to do that."
The most infamous moment of the Contador/Schleck rivalry happened on the climb up the Port de Bales on stage 15 of the 2010 Tour de France, in what has now known by cycling fans as 'chaingate.'
Carrying the yellow jersey, Schleck began to pull away from Contador but through more or less sheer bad luck, dropped his chain. Contador subsequently attacked Schleck and took the race lead, but says that it's all just part of racing.
"That day I had decided to attack and there was no question of changing my tactics," he said.
"It went the way it did, he accelerated and then he had this problem. These are situations, circumstances of the race."
Contador even went as far to say that Schleck had pulled a similar stunt on him earlier in the race, even after the peloton had already held up for Schleck once before in the first week of racing when he and older brother Frank crashed.
"Cancellara calmed everybody down, we waited for them and they came back on."
"Except the next day on the stage over the cobbles, Frank fell again and I found myself caught behind. Andy was in front with Cancellara and they didn't wait. On the contrary, they rode flat out to build a gap."
The current Vuelta a Espana champion had nothing but well wishes for his former rival as he heads into retirement.
"I hope that he enjoys being with his family and his passions outside of cycling, and that he's happy."
More racing stories
Chris Froome reiterates that the route of the 2015 Giro d'Italia would suit him more than the Tour de France,
Thank you for reading 5 articles this month* Join now for unlimited access
Enjoy your first month for just £1 / $1 / €1
*Read 5 free articles per month without a subscription
Join now for unlimited access
Try first month for just £1 / $1 / €1