Bahrain-Merida: 'The idea is to have a mega team in three years, like BMC or Sky'
Middle East WorldTour team Bahrain-Merida officially launched this weekend, with lofty aims for the coming seasons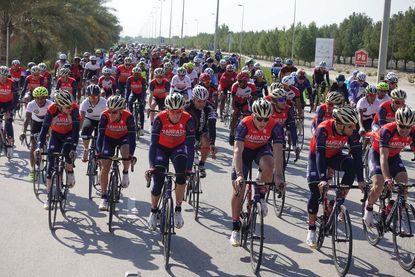 (Image credit: Bahrain-Merida)
The Middle East's first WorldTour team launches from Bahrain this weekend with aim at being one of cycling's super teams in three years.
Team Bahrain-Merida will race as one of the 18 WorldTour teams in 2017 with star Vincenzo Nibali. The management's idea – and the idea of the prince behind it – is to see it at the same level as Sky, BMC Racing or Quick-Step.
"The idea is to get there," General Manager Brent Copeland told Cycling Weekly at the team's presentation. "If you look at who we've pulled into this team and consider the short time that we had, we are in a good spot."
Prince Nasser bin Hamad Al Khalifa began the team after meeting and riding with grand tour star Nibali in 2015. Its main funding comes from Bahrain's petroleum, metal and telecom companies, and from Taiwanese bike manufacturer Merida.
>>> Bahrain-Merida team jersey revealed
Nibali stands out. The team also includes Spaniard Ion Izagirre, Giro d'Italia and Tour de France stage winner. The goal, however, is to expand its estimated €17-million (£13.7m) budget and strength in the first three-year term.
The average WorldTour team relies on a €14-million (£12m) budget. Sky has some of the deepest pockets with £24 million.
"The prince's goal is to make sure that we keep growing and become the best. He's not trying to be arrogant, because he has barrels of oil to sell, it's because he likes the challenge," added Copeland.
"We want to play our cards right and give back to the investors. We are doing all of that and if that works, it will be a long term project."
Copeland met with the team this weekend at the Sofitel Luxury Hotel on Bahrain's west coast. He explained that Bahrain-Merida considered cyclists like Tom Boonen for 2017, but that taking on a classics star would require budget and men to support him as well.
"Our season is centred on the Giro because that's Nibali's goal. We have riders for the shorter stage races and classics, but when it's a new project, it's hard to do everything. The main objective was to build a team around Nibali. Once you have a team around for a couple of years, then you can start to juggle it around.
"In the future, we also went to have another team for the classics. We want to have a serious project. We will always go for the GC, but we also want one for the classics.
"We want Bahraini riders. We are working with the BCA, the Bahrain Cycling Association, to try to find a rider from here. Buying a cyclist for millions is great, it gives the sponsors return, but having a rider come from nothing produces satisfaction that is sometimes bigger than winning. If we can do that and get the Bahraini people behind us."
After Bahrain-Merida received its licence, Lampre's China project failed and it found a backer in Abu Dhabi. The UAE Abu Dhabi team, with Ben Swift from Sky, will be the second of two Middle Eastern teams to enter cycling. The team includes a local UAE cyclist, Yousif Mirza.
>>> Team Bahrain-Merida show off their bikes
Bahraini people already grabbed onto the idea of a local team, however. Saturday morning, around 400 locals joined the team riders for a three-hour bike ride on the island.
On Sunday, the team meets with Prince Nasser in his palace. The cyclists will go separate ways to start the team's debut season after the two-day meeting in Zallaq, Bahrain, ends. Nibali heads to Argentina for the Tour de San Juan, another group travels to the Tour Down Under in Australia, and the others head to a training camp.
"We just want a good image and organisation," Copeland said. "The results come automatically if the riders an see how much effort we are putting in the team."
Thank you for reading 20 articles this month* Join now for unlimited access
Enjoy your first month for just £1 / $1 / €1
*Read 5 free articles per month without a subscription
Join now for unlimited access
Try first month for just £1 / $1 / €1