BASSO TO RIDE FOR LIQUIGAS IN 2009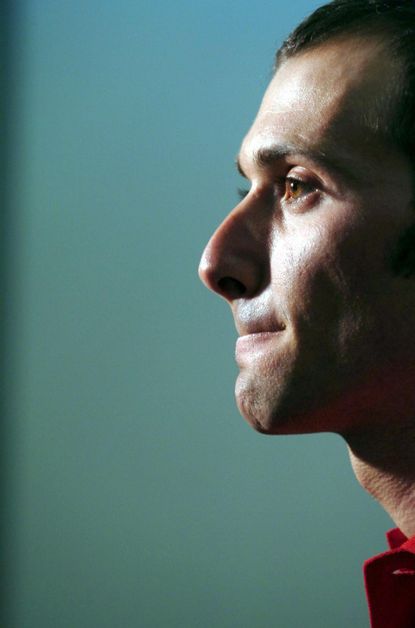 (Image credit: PAPON)
Ivan Basso has signed for Liquigas and will ride for the Italian team in 2009 and 2010.
The former Giro d?Italia winner is banned from racing until October 24 for his involvement in Operacion Puerto but has kept fit and is determined to make a successful comeback after serving his time. Basso will share team leadership at Liquigas with Filippo Pozzato and will be a team mate of Britain's Charly Wegelius.
Basso was withdrawn from the 2006 Tour de France by his CSC team on the eve of the race when the Operacion Puerto scandal was blown open. At the end of the year he left CSC by mutual consent.
Discovery Channel signed him for the 2007 season but after a handful of low-key rides in their colours, Operacion Puerto caught up with him. He did not admit to doping but did concede he had considered the possibility and had stored blood. The Italian Olympic Committee imposed a back-dated suspension on him, which expires on October 25.
Basso and his manager and former team mate Giovanni Lombardi have talked to several teams in recent months but Liquigas were looking for a stage race team leader and apparently made the best offer. The deal was signed in Milan on Thursday night.
According to reports on the Gazzetta dello Sport website, Basso will earn almost £600,000 over two years plus bonuses.
Under to the current ethics code agreed between leading teams, riders who serve a ban for doping cannot join a ProTour team for two years when they return. However, Liquigas have recently announced they intend to rip-up the ethics code and have gone ahead and signed Basso despite knowing it will anger the other teams.
RELATED LINKS
January 29, 2008: Italians argue over amnesty for Ivan Basso
June 15, 2007: Basso banned for two years
April 30, 2007: Basso quits Discovery Channel
Thank you for reading 20 articles this month* Join now for unlimited access
Enjoy your first month for just £1 / $1 / €1
*Read 5 free articles per month without a subscription
Join now for unlimited access
Try first month for just £1 / $1 / €1