BASSO WANTS A CLEAN START AFTER DOPING BAN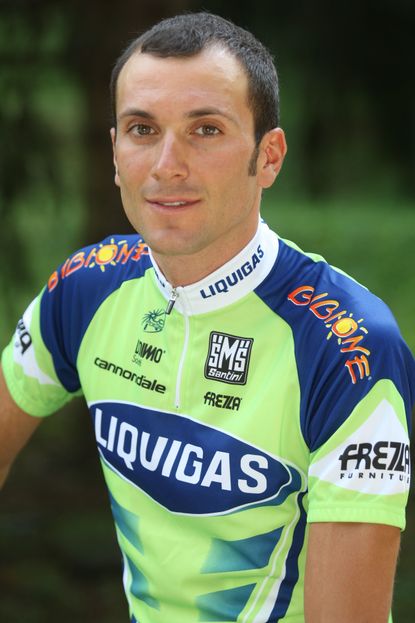 Get The Leadout Newsletter
The latest race content, interviews, features, reviews and expert buying guides, direct to your inbox!
Thank you for signing up to The Pick. You will receive a verification email shortly.
There was a problem. Please refresh the page and try again.
Ivan Basso is convinced that he will make a successful comeback to racing after his two-year ban for doping, when he returns with the Liquigas team.
The 30 year-old Italian pulled on the bright green Liquigas jersey for the first time on Friday at a special press conference that was held during a Liquigas sales convention.
He was warmly applauded by the Liquigas reps enjoying a day at a swanky hotel over looking Lake Maggiore but tried to avoid questions about Operacion Puerto from journalists.
?I?m lucky that I can race again and show that what I did in the first part of my career was done honestly. I?m convinced that people will believe in me. Some people will be still be disappointed with me for what I did but time will help heal the scars,? Basso said.
The former CSC and Discovery Channel rider has always denied doping despite admitting that his blood was found in Dr Fuentes? fridge in Madrid. He has quietly served his two-year ban without spitting in the soup.
Despite being embarrassed by several questions about his involvement in Operacion Puerto, Basso refused to take a clear stance against doping or speak about other riders who may have been in Puerto but have so far not been punished.
?What happens to other riders isn?t my problem, I don?t think I?m the right person to judge things and give an opinion,? Basso said.
?I?ve paid for what I did and so I can look at myself in the mirror, even if a sense of embarrassment remains. It?s not up to me to judge what happened with Operacion Puerto. I want to talk about racing again, that?s what matters for me. I?m not the boss at Liquigas, I?m one of the team. There are rules in the team and I?ve got to follow them.?
JAPAN CUP AND THE GIRO D?ITALIA
Basso?s ban officially ends on Friday, October 24 and his first race will be the one-day Japan Cup race in Tokyo on Sunday October 26.
He plans to ride the Tour of San Luis in Argentina in January 2009, the Tour of California in February, Tirreno-Adriatico in March and then build-up for the Giro d?Italia, his big objective of 2009.
Liquigas said he would also ride the Vuelta with the aim of gaining a place in the Italian team for the world championships. However there was no mention of Basso riding the Tour de France and Basso played down a possible rivalry with Lance Armstrong at the Giro d?Italia.
?There are still a few days to go before I can race again but it?s almost over,? Basso said.
?The 26th will be the day when I can finally pin on a number at a race and feel the emotions I haven?t felt for two years. I?ve worked hard to be on good form and I?m optimistic I can do well.?
?The Giro will be my biggest objective for 2009 but there are other races before then which will be key steps in my comeback with my new team mates. When it?s time to talk about Armstrong I will but he?s obviously the number one favourite for the Giro d?Italia.?
TRAINING AND TEST RESULTS ON THE INTERNET
Basso said that he will post his physiological data from his training rides on his website starting from October 24 and Liquigas team manager Roberto Amadio announced that the Italian team will carry out internal anti-doping tests in 2009 with a still to be decided external agency.
In recent months Basso has worked closely with Aldo Sassi of the Mapei training centre. Sassi also coaches Cadel Evans and is a staunch anti-doping campaigner but has been willing to coach Basso during his comeback.
?Everybody deserves a second chance, especially if they really want to change and I?m convinced that Basso wants to do that,? Sassi told Cycling Weekly.
?We thought long and hard at the Mapei centre about working with Ivan but we know that we can?t solve cycling?s problems just by eliminating whoever makes a mistake. People tell me I?m taking a risk by trusting Ivan but I don?t think I?m risking anything because he?s clean. When a rider accepts any kind of anti-doping test and even accepts measuring haemoglobin volume, the only test which can reveal if a riders is blood doping, that convinces me he deserves my time.?
RELATED LINKS
Basso to ride for Liquigas in 2009
Basso banned for two years
Basso quits Discovery Channel
Basso admits Puerto links but denies doping
Thank you for reading 20 articles this month* Join now for unlimited access
Enjoy your first month for just £1 / $1 / €1
*Read 5 free articles per month without a subscription
Join now for unlimited access
Try first month for just £1 / $1 / €1