Ben Swift set for Katusha exit, Team Sky awaits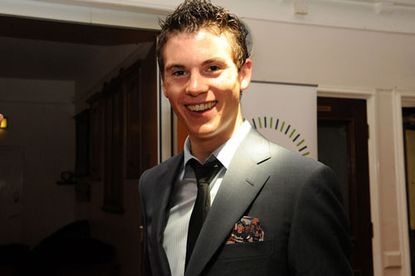 CW EXCLUSIVE: See Thursday's edition of Cycling Weekly magazine for the full story.
Britain's Ben Swift is set to leave Katusha, freeing the way for a move to Team Sky, after the rider's agent confirmed he had ended his contract with the Russian team.
The 22-year-old turned professional for Katusha at the start of the 2009 season after signing a two-year contract.
However, his agent Paul De Geyter, told Cycling Weekly that Swift had followed UCI rules and had informed both the team and the governing body that he wanted to break his two-year contract shortly after the World Championships in late September.
And De Geyter believes it is just a matter of time before the UCI grants Swift his wish to leave Katusha.
The reason for Swift wanting to leave is that he was forced to sign Katusha's rider charter in May, following the positive dope test for their rider Christian Pfannberger. The charter meant the riders would have to pay up to five times their annual salary in the event of testing positive, which was a change to their terms and conditions.
De Geyter told CW Swift signed the charter, which was not in English, during the Giro d'Italia because he was told he had to sign it or stop riding for the team. Another Katusha rider, Gert Steegmans, refused to sign and was released from his contract. The Belgian has joined Lance Armstrong's Radio Shack team for 2010, setting a precedent.
UCI rules state that new professionals must be offered two-year
contracts, a measure to avoid a high number of young riders
being hired and then released after only a year. Swift's contract with the team runs until the end of 2010.
But Swift and his agent have informed the UCI that he wishes to be released from his contract and De Geyter said he believed it was "a formality" that the rider would be free in a matter of time.
Katusha sees things differently. Only last week the team's manager, Andrei Tchmil, told CW he expected Swift to see out the remainder of his contract.
However, it is now clear that the change to his working conditions has given Swift grounds to extricate himself from the remainder of his contract.
TEAM SKY AS IT HAPPENS
All you need to know about Team Sky
Ben Swift: Rider Profile
Thank you for reading 5 articles this month* Join now for unlimited access
Enjoy your first month for just £1 / $1 / €1
*Read 5 free articles per month without a subscription
Join now for unlimited access
Try first month for just £1 / $1 / €1