Bianchi unveils new retro ride
We take a look at Bianchi's new/old L'Eroica bike, which was on display at the recent Cycle Show in Birmingham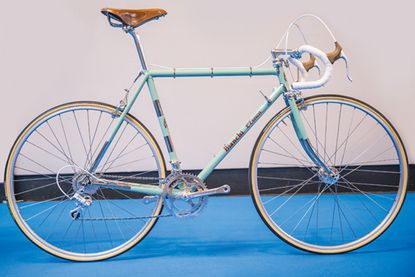 There has been a huge rise in the popularity of vintage bikes and events over recent years, spurred on by the famous Eroica extravaganza. Sharing the name of the aforementioned retro cycling event, Bianchi's majestic L'Eroica model was on display at the recent Cycle Show in Birmingham's NEC. At first glance, the L'Eroica, complete with its celeste green livery appears every bit the vintage original. But it isn't.
>>> Eroica Britannia: a unique event
A closer look reveals that it is in fact a replica, brought up to date with modern manufacturing touches. Based on a 1952 Specialissima, the Italian brand wanted to steer clear of the original name, insisting: "The Specialissima will always be reserved for the most technologically advanced bike that sits at the top of our range."
Classic celebration
The L'Eroica is the only new machine officially sanctioned for use in Eroica events, whose regulations require all participants to ride bikes manufactured before 1987. The Eroica event is a celebration of classic bikes, great wine, delicious food, and all things Italian. Riders mount vintage machines with toe-clips and down-tube shifters to ride over the course's beautiful country roads and tracks.
>>> Blog: Riding L'Eroica 2015 – Italian cycling's celebration of steel
Is the new bike all style over substance? Well, Bianchi has gone to great lengths to make this new/old bike authentic and every bit as good as the original. The frame is a lugged construction, using Columbus Zona tubing, with resplendent chrome stays and fork ends that contrast really nicely against the Celeste green.
>>> Icons of cycling: Campagnolo Super Record derailleur
Campagnolo was also part of the project, contributing special front and rear derailleurs that are modern in construction but designed to look vintage, with old-style Campag logos.
All-weather assurance
Other vintage-style (but modern) bits include the embossed three-arm spider crank, quill stem, Campagnolo brake levers and Dia Compe down-tube shifters. Incidentally, down tube shifters are compulsory in the Eroica rulebook. There is Velo cotton bar tape, 32-hole Ambrosio Montreal tubular rims, with attractive large flange hubs and tan side-walled tyres that look every bit the part.
>>> New research unlocks secrets of steel tubing
It doesn't stop there. The brakes are Dia Compe centre-pull and appear to offer generous tyre clearance — ideal for Eroica events where unpaved roads and strade bianche sections often require larger-volume rubber. A Brooks Team Pro Classic leather saddle adds an element of classic British chic. Crucially for many fans, the L'Eroica is manufactured in Italy.
To prevent the market being flooded and every other person at the Eroica riding one of these bikes, Bianchi is releasing only limited numbers: just 25 in the UK. The different frame sizes will be 50, 53, 55, 57, 59, 61, 63 with a 13-29t cassette and a 48/36t crankset.
>>> Road bike groupsets: A complete buyer's guide (video)
The decision to fit a 10-speed cassette is intriguing. It offers great versatility, but will leave some purists, who might have preferred fewer sprockets, questioning the bike's vintage credentials. Incidentally, the Eroica rules don't state anything about the number of gears on the rear wheel.
UK pricing is yet to be confirmed, with Bianchi suggesting to us £2,000-£2,500. Available at the end of 2015.
Our take
Purists may be dismissive of a replica. Others may be disappointed that you do not get a complete Campagnolo groupset. But with the price likely to be around £2,000, it is hard to criticise, especially when it looks this good.
Bianchi has cleverly identified a gap in the market, and a bike like this is great way of making superb events like the Eroica more accessible to a wider audience.
With more and more people wanting to participate in vintage events, there are simply not enough vintage bikes to go around. In short, Bianchi has done a great job in creating a bike that encourages people to appreciate the heritage and heroism of our great sport. And that can only be a good thing.
Thank you for reading 10 articles this month* Join now for unlimited access
Enjoy your first month for just £1 / $1 / €1
*Read 5 free articles per month without a subscription
Join now for unlimited access
Try first month for just £1 / $1 / €1
Oliver Bridgewood - no, Doctor Oliver Bridgewood - is a PhD Chemist who discovered a love of cycling. He enjoys racing time trials, hill climbs, road races and criteriums. During his time at Cycling Weekly, he worked predominantly within the tech team, also utilising his science background to produce insightful fitness articles, before moving to an entirely video-focused role heading up the Cycling Weekly YouTube channel, where his feature-length documentary 'Project 49' was his crowning glory.