BMW's answer to tackling crashes, congestion, and pollution: elevated paths just for e-bikes
Although it doesn't look like normal bikes will be welcome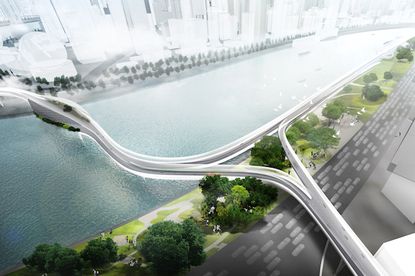 Car companies often make forays into cycling to release posh new bikes, but BMW has taken a different approach with the suggestion of elevated roads aimed specifically at e-bikes.
Called the BMW Vision E³ Way (with E³ standing for elevated, electric and efficient), BMW says that the system of pathways would provide a "simple and effective" solution to tackling congestion and pollution in the world's largest cities, with the idea to provide "direct links between key traffic hubs, making it the perfect alternative for commuters travelling up to 15 km."
>>> Lack of basic facilities provided for cycling commuters at work laid bare by report
The paths are designed to be used by e-bikes and electric scooters - there's no mention of good old-fashioned human-powered bikes, perhaps because BMW doesn't make those - and would use a system of "ramps and sluices" to connect to the normal road network, other transport hubs, and shopping centres.
All those ramps and sluices combine to make a "complex system of lanes", which don't merge until joining bikes have reached the automatic speed limit of 25kmh, which BMW says will reduce the risk of accidents in the system.
Watch: What's it like to ride an e-bike
The system is also designed to be "smart", with "traffic flow permanently optimised by means of automated video surveillance systems and artificial intelligence", and also dry and cool with a roof and a ventilation system which can also apparently be used to keep the roadways clean.
The idea for the E³ Way was developed at the company's offices in Shanghai, and is clearly aimed at providing a transport system for the rapidly expanding megacities of the Far East.
>>> Dr Hutch: An e-bike can be your friend, not you enemy
This isn't the first time that elevated cycle paths have been suggested as a way of improving safety and congestion in cities, with British architect Norman Foster proposing an elevated "SkyCycle" network for London which, unless our eyes deceive us, hasn't come to fruition just yet.
However there is a precedent for the idea in China already, with the south-east city of Xiamen opening a 7.6km elevated cycle path earlier this year.
Thank you for reading 20 articles this month* Join now for unlimited access
Enjoy your first month for just £1 / $1 / €1
*Read 5 free articles per month without a subscription
Join now for unlimited access
Try first month for just £1 / $1 / €1