Botched and derisory: the verdict on Government's cycling plan
MPs and campaigners slam Department for Transport's Cycling and Walking Delivery Plan for lack of funding commitment, timing and failure to coordinate with other departments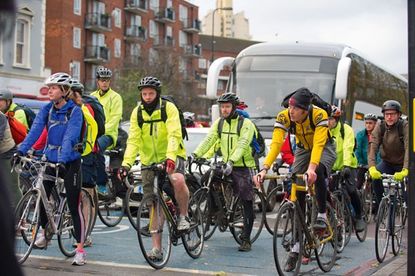 Get The Leadout Newsletter
The latest race content, interviews, features, reviews and expert buying guides, direct to your inbox!
Thank you for signing up to The Pick. You will receive a verification email shortly.
There was a problem. Please refresh the page and try again.
MPs and campaigners have strongly criticised the government's Cycling and Walking Delivery Plan, published two hours before a key debate on cycling in Parliament, for lacking real ambition or committing to funding.
The CTC said that publishing the document so close to the debate made "a mockery of Parliament's role to scrutinise Government strategy and policy".
During a two hour debate in Parliament this afternoon Ian Austin, MP for Dudley and co-chair of the All Party Parliamentary Cycling Group (APPCG), said the report was "botched" and "disappointing".
Paul Tuohy, CTC Chief Executive, said: "This is a derisory plan, not a delivery plan. The Prime Minister's 'cycling revolution' with its Penny Farthing budget is going nowhere unless the Chancellor finds funding for cycling in his Autumn Statement. Cycling needs at least £10 a head if we are even to begin catching up with German, Dutch or Danish levels of cycle use.
"If we can afford long term strategies for our roads and railways, why not for cycling? Given its huge benefits to the economy and the environment, our waistlines and our wallets, it is surely foolish not to.
"With tomorrow being the last day for the public to comment on what should be in the Chancellor's Autumn Statement, I urge MPs and the public to voice their support today for CTC's call for funding4cycling."
Ian Austin, MP said: "It turns out that the document — I do not think that it could be credibly described as a delivery plan — was published this morning. As a result, we have been left far too little time to subject it to proper scrutiny, although it is already clear that it is a very disappointing piece of work. We waited a year for this report, but it makes no real commitments at all."
He said the late publication meant cycling organisations and the media were unable to promote the debate and lobby MPs to attend. The debate was poorly attended compared with past cycling debates.
Austin criticised a lack of cross departmental action on cycling, notably among the Department of Health and the Department for Communities and Local Governments (DCLG). He said the latter's lack of involvement was "absolutely unbelievable given that so much of the work to improve facilities and safety for cyclists has to be done by local authorities".
Ben Bradshaw, MP for Exeter, said in today's debate: "I cannot help agreeing with CTC, which has described it as 'not a delivery plan' but a 'derisory plan'. Once again, it is a hotch-potch of aspiration, which puts a lot of the responsibility on hard-pressed local authorities, on local enterprise partnerships — we have already heard that the record of LEPs is feeble at best, and they are also under a lot of pressure — and on business.
"Seeing this report was one of the most depressing moments I have had in this House during this Parliament."
Among its 18 recommendations, the APPCG's Get Britain Cycling report called last year for £10 per head per year funding for cycling, rising to £20 per head, and to set a target to increase cycling from below 2% of trips at present to 10% by 2025 and 25% by 2050.
MPs and campaigners have said the key issue now is for individuals to lobby MPs and candidates to force cycle funding into party manifestos for next year's elections. The CTC has organised a petition so people can tell the Treasury to put cycling in the Autumn statement — the closing date for responses is tomorrow (17 October).
More cycling safety news
New websites aiming to gather information about collisions and near misses
Thank you for reading 20 articles this month* Join now for unlimited access
Enjoy your first month for just £1 / $1 / €1
*Read 5 free articles per month without a subscription
Join now for unlimited access
Try first month for just £1 / $1 / €1
Get The Leadout Newsletter
The latest race content, interviews, features, reviews and expert buying guides, direct to your inbox!