Bradley Wiggins: 'I will have my say and it will shock a few people'
Bradley Wiggins has said that once an investigation by UKAD has been completed, he will talk openly about the findings and have his say.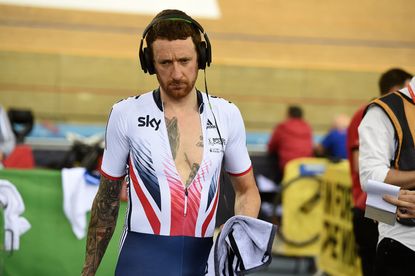 (Image credit: Andy Jones)
Bradley Wiggins has said that it has been "horrible" to be accused of anti-doping violatons but that he will eventually have his say on the matter and it may "shock a few people".
In an interview on Saturday morning with the Sky Sports football programme Soccer AM, Wiggins said that he would discuss the ongoing saga once an investigation by UK Anti-Doping has completed and released its findings.
UKAD are investigating whether there was any wrongdoing by Wiggins and Team Sky at the 2011 Criterium du Dauphiné, when a mysterious jiffy bag arrived from Manchester.
Sky and Wiggins say that fluimucil was the bag's contents but there is record to prove that. It is alleged that Wiggins may have used triamcinolone, which he didn't have permission to do so.
>>> Team Sky admits to previously buying Fluimucil 160 miles from Dauphiné finish
"It's been horrible," Wiggins said of the case. "But fortunately there is an investigation going on.
"It's the worst thing to be accused of when you're a man of my integrity, if you like, what I believe anyway, and what I've done to get where I am today.
"Fortunately there's an investigation and I obviously can't say too much because that will run its course and then I'll have my say.
"There's a lot to say and it's going to shock a few people."
The only other interview that Wiggins has given on the matter was last autumn, when he appeared on the BBC political show Andrew Marr. There, he insisted that the three TUEs he was administrated before the 2011 and 2012 Tour de Frances and 2013 Giro d'Italia were to put him "back on a level-playing field".
>>> Team Wiggins 'very disappointed' and 'surprised' at omission from Tour de Yorkshire
The five-time Olympic champion has otherwise stayed silent on the issues, while his former Team Sky boss Sir Dave Brailsford, the sports director of his eponymous team – Simon Cope – and Sky doctor Richard Freeman have come under increasing scrutiny.
Meanwhile, Wiggins has starred in a 90 second Skoda advert dedicated to his sporting achievements and also featured on the Channel 4 programme, The Jump.
Thank you for reading 5 articles this month* Join now for unlimited access
Enjoy your first month for just £1 / $1 / €1
*Read 5 free articles per month without a subscription
Join now for unlimited access
Try first month for just £1 / $1 / €1