British companies are leading the way with cycling fashion
British brands are now leading the way in cycling clothing, from the pro peloton to fashionable commuter apparel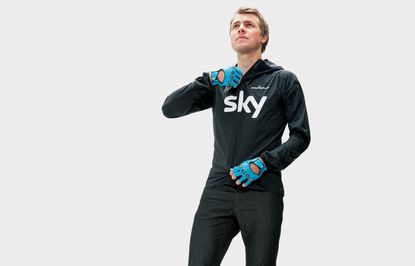 Back in the Eighties and Nineties the production of cycling apparel was a distinctly continental affair. For us in Britain this wasn't a particularly bad thing; cycling clothing seemed to be having something of an identity crisis. A simple Google search reveals that, much like mainstream fashion of the time, sartorial horror shows were commonplace from the pro peloton down to the recreational rider.
There were some exceptions. Bernard Hinault, whether riding in the checks of Peugeot or the Mondrian-inspired block colours of La Vie Claire, was always well turned out. Then there was the classic Brooklyn Chewing Gum team's red, white and blue, visible on the back of the eternally suave Roger de Vlaeminck. Yet most manufacturers at one stage fell victim to a neon, colour-splash, text-overload panic.
Britain was not completely without representation during this period. Caratti and Lusso were proud British creations, albeit with Italian sounding names. Caratti was the first UK importer of Italian brands such as Castelli, Sidi, De Marchi and Colnago, and eventually developed its own range of clothing. Although Caratti disappeared for some time in the late Nineties, it re-emerged this year with a new collection.
Coffee, cake and caps
Lusso was launched in 1982 by former GB cyclist John Harrison. Harrison and his wife, a machinist, initially set out to create "a decent and comfortable pair of cycling shorts that didn't cost the earth". As one of the few remaining British manufacturers from this era still trading today he has a unique take on how things have changed since the early Eighties.
"When we started manufacturing over 30 years ago people would have laughed at the idea of selling coffee and cakes in a bike shop! That said, the fabrics and technology have moved on leaps and bounds from the early days...The competition is far stronger now than it was 30 years ago, but at least now we can compete against the European brands on design, quality
and price."
For most cyclists, the idea of "coffee and cakes in a bike shop" is something that can only be associated with Rapha. When Simon Mottram launched the company in 2004 its offering was modest. Years of dissatisfaction at the cycling clothing available led him to the tentative production of a jersey, jacket and cap. Ten years on it is one of the most recognisable brands in cycling clothing and has inspired a wealth of British designers, manufacturers and online retailers to venture into the home-grown market for bike wear.
Class divide
In 2013 Rapha replaced Adidas as kit suppliers to Team Sky and was highly visible as Chris Froome went on to claim the Tour de France title for the British team. The move proved canny as the company went on to report growth of 67 per cent for last year with an estimated turnover of £26.5M.
It is clear that Mottram's company has benefited hugely from the British cycling boom that began shortly after its inception. The rise in the national profile of the sport, brought about by the successes of Sir Bradley Wiggins, Mark Cavendish and Froome, together with a drive in cities such as London and Bristol to make urban areas cycle-friendly, has helped create a competitive marketplace for cycling apparel in Britain.
While undoubtedly producing cycling clothing of the highest quality, critics of Rapha have suggested that the price of the clothing is creating something of a class divide in cycling. Such criticism is understandable when one considers that Rapha jerseys and bib shorts can cost as much as £160 and £190 respectively, but then the option for a choice between bikes that cost £500 and those priced at £5,000 has long been there, so a large price divide in biking is nothing new.
Vulpine, created by former film executive Nick Hussey in 2012, is another example of a distinctly British brand encouraged and inspired by Rapha's success.
"Before that [Rapha] you could either cycle in tight, bright Lycra, or just fashion gear that didn't work. Rapha changed the game, and many are still catching up," Hussey says.
Vulpine places emphasis on combining comfort and style with performance and function, producing men's and women's lines that look as good off the bike as they do in the saddle. Hussey sums up the brand's place in the market simply: "The Vulpine test is if you can walk into a slightly rough pub and not look like a dick, then it's right."
So is being a British brand simply about being synonymous with high-end style and appearance? Not according to Hussey: "I'd hate us to be defined as a fashion brand. Fashion is ethereal and based purely around look, but not performance. Our garments must work. I am obsessive about detail and real-world cycling solutions, not gimmicks."
Rapha and Vulpine produce cycling apparel that occupies the higher price points but how do they compare when it comes to value over other, less expensive home-grown options?
"Value is often defined as cheap," says Hussey, "But cheap breaks; cheap has poor customer service; cheap doesn't work. Yes, we're more expensive, but only in the cycling world. On the high street we are average. But add in all the performance and detail we offer, and you have that huge value again."
Ladies love Lycra
One area where Vulpine has seen recent success is the women's market. Since becoming part title sponsors of women's pro team Matrix Fitness-Vulpine, soon to be the home of double Olympic gold medallist Laura Trott, female customers have begun to represent a greater share of sales.
"Last year women accounted for 15 per cent of sales, and this year it's 30 per cent plus. That says something. The signing of Laura Trott for 2015 may have had a significant effect, as we have sold out of many women's lines, especially to our stockists, who you can now see ramping up for female customers more than ever."
The women's market has, as is often the case with manufacturers operating in fringe or traditionally male-dominated sports, been limited if not completely neglected for some time. Ten years ago female cyclists would often have to choose from cycle clothing and apparel designed for men and, as such, was ill-fitting and impractical.
A recent rise in the sport's popularity among women has meant that new brands, catering specifically for the needs of women cyclists, have started to address issues surrounding comfort, fit and appearance.
Fierlan is a British company that manufacturers cycle-wear solely for women. The boutique brand, founded by Lucy Gardner and Emily Buzzo, both keen cyclists, was conceived out of a lack of options when it came to women's bike attire.
"One day we were discussing where we could get some cycling shorts and there didn't seem to be much available for women. A lot of women's clothing was simply men's stuff in a smaller size. I thought it would be great if someone made some shorts that you didn't have to pull up all the time. Assos's women's bibshorts were good, but we wanted to do the whole range," says Gardner.
These first-hand problems were addressed when the company released its first collection in June of this year. The range is eye-catching and innovative, prioritising fabric quality, comfort and fit; stylistically comparisons may be drawn with Rapha when it comes to simple block colour and panelling. European manufacturing ensures the comparisons don't end there, with a jersey costing £100 and shorts starting at £95.
So what about those of us who do not have £200 to spend on a new jersey and bibs? Thankfully the rise in the number of British bike apparel companies producing clothing that is both functional and easy on the eye is not limited to the high-end market.
More kit, Morvélo
Brighton-based manufacturer Morvélo was launched in 2009 by Oli Pepper and David Marcar. After producing an initial line of t-shirts and some cycling kit they could sell to friends and family, Pepper and Marcar left their design consultancy to focus on producing kit that can be worn for all types of cycling, from BMX to road. The company is independent, self-financed and rider-owned, and occupies areas of the sport that are more inclusive than the high-end players.
"Our approach is to represent all forms of cycling in an accessible and passionate way, which is in intentional contrast to Rapha's," says Pepper.
Morvélo's men's and women's road jerseys are priced at £70, whilst bibshorts cost £90. The range is slick and stylish, with retro and European influences heavily visible across the range.
One true indication that the profile of British manufacturers of cycle clothing has been on the rise in recent years is that growth has not been exclusive to those occupying the higher price points. Middle ground companies such as Morvélo, with different business models, have seen sales increase both at home and abroad.
"Our growth is more gradual than investor-led companies," says Pepper, "which seems more commonplace in the industry nowadays. Our turnover still has doubled year on year, with much of this growth being driven by overseas markets such as Australia, South Korea and Singapore.
"I think we have more in common with the new world of cycling, such as America and Australia and their bolder, more unrestrained approach... We can either choose to pick up on cycling tradition, decide to discard it or mix it up all together."
The success of Morvélo, Rapha, Vulpine and their competitors is one that is largely dependent upon their ability to reach their customers online, as this is where the majority of cycling apparel is purchased in Britain. With the exception of Rapha, none of these companies as yet has the brand strength or customer base to open physical locations. Intelligent online retail is paramount to sales and when it comes to British cycling retailers there has been no greater exponent of this than Wiggle.
The wonder of Wiggle
Since launching back in 1999 Wiggle has grown to become the UK's largest and most visible 'e-tailer' for cycling, swimming, running and triathlon products. Its growth, while steady, was unspectacular until 2006, when significant investment coincided with Britain's burgeoning interest in cycling and endurance events. In the five years that followed the company's turnover increased eight-fold to £87m in 2010/11.
As with Morvélo, success in overseas markets has been largely responsible for Wiggle's rapid growth. In 2008 just 2.5 per cent of total sales came from outside Britain. By 2011 this figure had reached 53.8 per cent. Since then the company has continued to see double-digit growth in international markets and now exports to over 70 countries.
One of the reasons for Wiggle's success has been its in-house value brand — dhb. Christina Lindquist, the brand marketing manager says: "While Wiggle doesn't consciously promote dhb over other brands, with one in three purchases of apparel being dhb it is clear we are doing something right."
The success of the line has not been limited to the UK. Sales of dhb clothing have
risen on the back of a perception of British clothing design and manufacture being synonymous with excellence.
"Typically British designed brands stand for style and quality" says Lindquist, "and this translates well into overseas markets where the 'Savile Row' mentality precedes any new brand, meaning that the focus on design and quality must remain high for the customers."
The quality of dhb clothing given its price point is undeniable. The majority of the road cycling range is produced in Italy using Italian fabrics, with some of the wider range manufactured in Asia.
Wiggle is able to keep the quality high and price low on dhb clothing by being both manufacturer and distributor, says Lindquist.
"By supplying our customers direct, we cut out the need for a middle man and can pass on the saved costs to the customer so that they benefit in value."
Wiggle is not the only example of a small British bike shop turned large-scale distributor. Madison, which began life in 1977 as a small shop in north-west London, now proudly claims to be "the UK's largest distributor of bicycle parts and accessories". In recent years the company has expanded its offering to include snow and motor sports, electronics, and other equipment covering a host of outdoor activities. It also offers an in-house clothing brand — 'Madison: Cycle Everywear' — which benefits from a similar manufacture and distribution model to that of dhb. The company has been highly visible in the professional ranks over the past two years since it joined with Genesis bikes as title sponsors of the Madison-Genesis team.
While much of the production of cycle-wear by British clothing companies is outsourced to Europe and Asia, Livingston-based Endura is an example of a company that has invested in homegrown manufacturing.
Established in 1992 by Jim McFarlane in the West Lothian town near Edinburgh, the company has increased its in-house manufacturing of technical cycle clothing year on year. By offering a huge range across all bike disciplines, Endura has grown to become the single largest cycle clothing brand in the UK with distributors across the globe. By offering decent clothing at a reasonable price the brand has become ubiquitous at all levels of road cycling, and it is likely that most remember owning a piece of Endura clothing at some point.
If further indication of the strength of the bike-wear industry in Britain were needed, the fact that high street and designer manufacturers have begun to pick up on the rising profile of cycling as a representation of urban fashion, is a telling one. For those that commute by bike but are put off by the idea of bib-shorts, or would rather not have to change, versatile modifications to everyday clothes have been incorporated into collections from high street giants such as Levi's and H&M.
High street stalwarts
British designer Ted Baker is the latest well-known name to enter this market. Its collection, Raising the Handlebars, consists of jeans, shirts, blazers and jackets that have been adapted for comfort and versatility in the saddle. The use of elastane to provide greater stretch, arm-pit ventilation holes and reflective undersides to collars and cuffs are just some of the subtle adaptations that have been made to their clothing.
Ted Baker's focus appears to be on the cyclist who is either not so fond of Lycra, or would rather not have to change clothes on reaching their destination.
"There has been a huge increase in the popularity of cycling with the rise of Cavendish, Wiggins and Froome and people are realising that it's easier to cycle the mile or two to work or to head down to the shops, but they want clothes that they don't need to change out of or have to shower," says a company spokesman.
The pattern of success that emerges suggests that while the popularity of the sport in Britain has been rising steadily for some time, the choice for what we wear on the bike was initially a little slow to catch up. Now, the changes are not limited simply to greater choice between brands. The apparel side of the industry, largely stagnant when it came to performance clothing from the mid-Nineties to around 2004/5, has benefited from a technological renaissance over the past decade.
Recent design innovations within cycling can be seen from the creation of lightweight, aerodynamic fabrics and skin-suits for those that ride regularly, to the ever-expanding array of comfort clothing and city wear aimed at the recreational cyclist or commuter. To state that British manufacturers have now caught up with and even overtaken the traditional European powerhouses in the production of professional performance clothing no longer sounds outlandish.
In a time when the financial security of the sport at its highest levels is in doubt, the success of British cycle-wear manufacturers to capitalise on the continued and increasing popularity of the sport at home and abroad has given new life and a promising future to an industry that 10 years ago appeared to be going nowhere.
Original article by Micky McMahon
Cycling fans will feel an affinity with the sporty Gamme Bleu range of menswear just launched at the Vigorelli velodrome
Strava branded cycling jersey, bib shorts, gilet, arm warmers and more
Thank you for reading 20 articles this month* Join now for unlimited access
Enjoy your first month for just £1 / $1 / €1
*Read 5 free articles per month without a subscription
Join now for unlimited access
Try first month for just £1 / $1 / €1