British Cycling riders to undergo heart scans after high profile athletes suffer cardiac arrests
Everyone from academy to elite level will have the assessment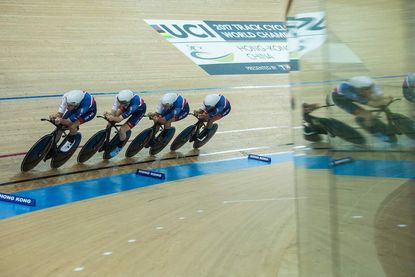 (Image credit: AFP/Getty Images)
British Cycling athletes will undergo yearly heart scans after high profile sporting names have suffered cardiac arrests.
Riders from academy to elite level with the British governing body will be assessed by health experts and could even be advised to retire if their safety is at risk.
A team from Liverpool John Moores University will carry out the scans as part of their research into the cardiac health of sportspeople, reports Sky News.
Sport and exercise cardiologist Professor John Somauroo told Sky: "We know there are high profile athletes having cardiac arrests.
"But equally unfortunately there are around 12 young athletes between the ages of 14 and 35 per week dropping dead in Britain."
>>> Cycling and heart health: should you worry about pushing your heart too hard?
Professor Somauroo said the real figure could be as high as 20 people per week.
The British Cycling riders will undergo a yearly electrocardiogram (ECG) and heart scan to assess whether they are at increased risk of suffering sudden cardiac arrest.
Cardiac health has been at the centre of attention in the cycling world this year.
At the 2018 Paris-Roubaix 23-year-old Michael Goolaerts suffered a cardiac arrest while riding , causing him to crash.
The Belgian Veranda's Willems-Crelan rider was airlifted to hospital but died that day.
It's not just the pros that are affected.
A 69-year-old rider, Nigel Buchan-Swanson suffered a cardiac arrest during this year's RideLondon-Surrey sportive.
The father-of-three and grandfather-of-six was 56 miles into the ride when he had the medical incident.
Despite receiving immediate treatment, Mr Buchan-Swanson died at the scene.
Athletes are routinely scanned in football, tennis and rugby union, but tests are not mandatory across all sport.
Earlier this year, the Football Association found that young footballers are dying from heart problems at a higher rate than previously expected.
By evaluating 20 years of screening, experts found that many young athletes died after heart checks that raised no concerns.
In 2012, Bolton Wanderers star Fabrice Muamba almost died after he suffered a cardiac arrest while playing.
Muamba survived but was forced to retire from the sport due to the heart condition.
Thank you for reading 20 articles this month* Join now for unlimited access
Enjoy your first month for just £1 / $1 / €1
*Read 5 free articles per month without a subscription
Join now for unlimited access
Try first month for just £1 / $1 / €1