Cadel Evans: Love him or hate him, the show's almost over
As one of the peloton's most divisive figures prepares to bow out, how will Cadel Evans' career be remembered?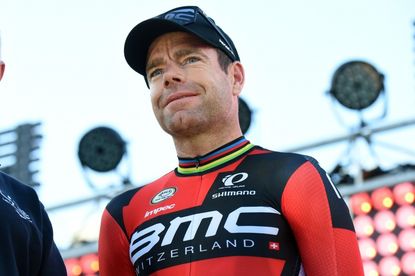 (Image credit: Watson)
Get The Leadout Newsletter
The latest race content, interviews, features, reviews and expert buying guides, direct to your inbox!
Thank you for signing up to The Pick. You will receive a verification email shortly.
There was a problem. Please refresh the page and try again.
Cadel Evans rolled past Rohan Dennis beyond the finish line in Paracombe at the end of stage three of the Tour Down Under on Thursday and gave his BMC teammate the thumbs up.
As well he might: the two Australians are now first and second on general classification, with Dennis in the leader's ochre jersey. And yet it hadn't gone exactly to plan.
Dennis was supposed to attack at the foot of the climb, but the run-in was fast and hectic and the 24-year-old found himself too far back. Evans followed Richie Porte when he accelerated, but gradually Dennis and the others came back, then Dennis jumped, won the stage and took the jersey. Evans is second at seven seconds.
A thumbs-up from his leader was the most he could expect, said Dennis, because Evans "is a man of few words."
The plan is still for Evans to win his final stage race, he is on track to do so and he is clearly in form. In fact, as you watched him shadow Porte, you briefly wondered whether he is retiring too soon. Then you remembered that he turns 38 next month.
Prominent Australian riders have paid their tributes to Evans over the last few days, acknowledging him as the country's greatest ever rider. That is probably fair – nobody else has won the Tour – even if Phil Anderson, the first Australian to wear the yellow jersey, deserves to be recognised as the real pioneer.
Greg LeMond paid a different kind of tribute, suggesting that Evans' Tour victory, in 2011, was only possible because the sport was cleaner. LeMond shared his belief that Evans lost some of the best years of his career, and other opportunities to win Grand Tours, to others' doping.
Which may be true, and yet Evans has remained a divisive figure. Some loved his grit and determination: nobody could suffer like Evans, and his Tour victory was a triumph of perseverance. Others bemoaned his lack of flair and panache.
Some loved the fact that there was nothing flash about Evans. He was all about winning bike races, not becoming famous. He was authentic. Yet he was also one of the first riders (after Lance Armstrong) to employ the services of a bodyguard at the Tour de France (a former policeman nicknamed the 'Muscles from Brussels,' who had previously protected Armstrong).
He didn't court the press. Some liked that. Others (the press) didn't. Memorably, he threatened to cut journalists' heads off if they stepped on his dog (long story). He was bad-humoured.
Yet he had a sense of humour (turning the "cut your head off" quote into a T-shirt). After a heavy crash during that same 2008 Tour he was bundled into a team car, ignoring the scrum of journalists outside, apart from to wind down the window and hand one of them his broken helmet, with the words, "There's your interview."
Enigmatic is a good word for Evans. But there are lots of others. Impenetrable. Serious. Intelligent. Shy. Emotional. Complex. Eccentric. In his book, Domestique, Charly Wegelius tells of the time he was signed to Evans' team and the two arranged to meet for dinner. Evans arrived with his wife and an expensive bottle of wine, which he placed on the table. And there it sat. At the end of the evening he stood up, said his goodbyes and left, taking the bottle of wine with him.
Evans was unusual in other respects. He was someone with a hinterland beyond his sport. When the Olympic Games went to Beijing how many top athletes spoke out against China's treatment of the Tibetan people? Evans did. "I just feel really sorry for them," he said. "They don't harm anyone and they are getting their culture taken away from them. I don't want to see a repeat of what happened to Aboriginal culture [in Australia] happen to another culture."
At moments like this he offered an appealing glimpse of himself. Perhaps the only source of regret as he prepares to ride off into retirement at the end of an admirable, impressive career, is that this "man of few words" didn't do it more often.
Thank you for reading 20 articles this month* Join now for unlimited access
Enjoy your first month for just £1 / $1 / €1
*Read 5 free articles per month without a subscription
Join now for unlimited access
Try first month for just £1 / $1 / €1
Get The Leadout Newsletter
The latest race content, interviews, features, reviews and expert buying guides, direct to your inbox!