Cancellara: Bradley Wiggins a serious contender for Paris-Roubaix
Fabian Cancellara says Sir Bradley Wiggins is not only a threat for Paris-Roubaix, but also the Tour of Flanders. The Swiss also admits he is unlikely to attempt the Hour Record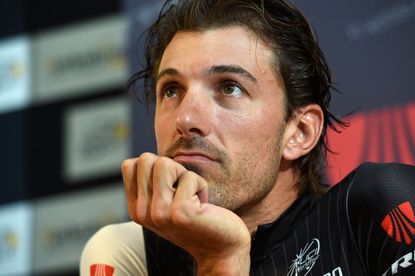 (Image credit: Graham Watson)
Fabian Cancellara admits Sir Bradley Wiggins will be a force to be reckoned with at Paris-Roubaix, what is likely to be the Brit's last race for Team Sky.
The three-time Hell of the North winner said Wiggins impressed a lot of people with his ninth-place finish on the cobbles last year, proving how serious he was to win the historic race.
Last year Cancellara simply said "good luck" when he heard of the 2012 Tour de France winner's desire to win in Roubaix, but now admits Wiggins could challenge in any of the cobbled classics.
"What Bradley will do, nobody knows," he said. "We know he's going to go for Roubaix but he can also be competitive at the Tour of Flanders.
"We know that when Bradley focuses on things he normally will achieve it somehow. Of course he will be one of the contenders that people should talk about.
"He did not just talk about it last year, he made it a really serious effort [to win in Roubaix]. He prepared for it last year and he came pretty close and impressed a lot of people.
"Of course Roubaix is a special race but Bradley is a serious contender."
Cancellara, speaking from Trek Factory Racing's training camp in Mallorca, admitted the Hour Record was not on his radar for 2015, with his motivation dampened by the UCI's rule changes.
But the Swiss, again, was full of praise for Wiggins, claiming that when the Brit takes his turn on the track the record will not be broken for a long time.
"I started the talk about the Hour Record and suddenly it gets changed in a way that means I don't have the same motivation," he said. "In the current situation everyone is trying to do it and that's good for the track cycling.
"At the moment I'm focused on other things than who is doing the hour record or where they are doing it. The last thing I wanted to do was make a one-hour show and at the moment it looks like everyone wants to make it into a show and that makes me feel sad about the past. I look at who held the record in the past and then their attempts suddenly get [erased].
"I think when Bradley Wiggins does his attempt the record will stay for a long, long time because he is a master on the track.
"I don't know what I'm going to do [about the Hour], but I know I will be going for the classics and I will be ready for them."
Thank you for reading 20 articles this month* Join now for unlimited access
Enjoy your first month for just £1 / $1 / €1
*Read 5 free articles per month without a subscription
Join now for unlimited access
Try first month for just £1 / $1 / €1