CONTADOR INSISTS ON INNOCENCE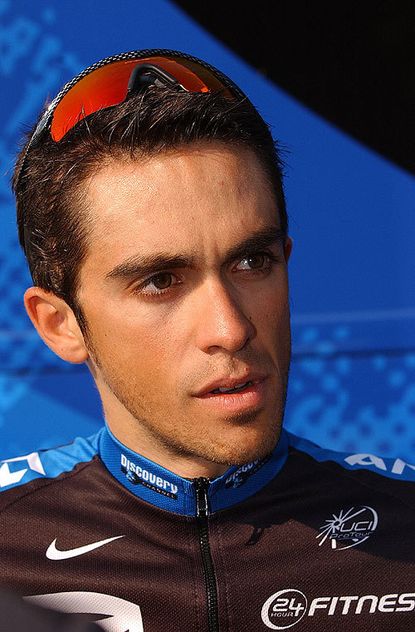 Alberto Contador, the 2007 Tour winner, has declared that he is innocent of all possible charges of doping. Speaking in a press conference in Madrid on Friday, Contador said he had never taken banned drugs and had won the Tour this year clean.
Accompanied at the conference by his Discovery Channel directeur sportif, Johan Bruyneel, a number of his relatives, and the Spanish Secretary for Sport, Jaime Lissavetzky, Contador said he was willing to provide a DNA sample should that prove necessary.
?I won the Tour clean. I cannot understand why people who don?t even know me are attacking me.? Contador said.
?I?ve never doped and I have never been involved in any banned drugs ring.? He added ? the latter a reference to his alleged links to the anti-doping probe, Operación Puerto.
?I have the support of the UCI and I am happy to hand over my DNA if so required.? Contador concluded. He said he intented to do all he could to help investigators in the fight against doping.
Contador's statement is reproduced in full below.
He also threatened to sue anybody who questioned his reputation as a clean rider. Initially linked to Puerto last July, Contador then almost immediately cleared by the UCI and the Spanish Sports Council - who provided a room in their Madrid offices for Contador?s press conference today.
The press conference made no reference to a report in the Friday edition of the LA Times which claimed that Discovery Channel will be disbanding at the end of 2007 following their failure to find a replacement sponsor.
Discovery, the sucessor of the US Postal squad and who have Contador and Great Britain?s Steve Cummings in their line-up , are the only US-based ProTour squad. Discovery formally confirm their exit from the sport on Friday.
LETTER FROM ALBERTO CONTADOR
Dear friends: amateurs who had cheered me from tiers or in front of the TV screen, communication media, sponsors, cycling event organizers and authorities. The events that occurred during the tour have made me meditate. All this is new to me. While I was too concentrated in the race and in the role that I was supposed develop in my team, I did not realize other things, I was not aware of the real transcendence of winning this race, even though I had seen it on the TV.
I only realized about this when the race had finished: police protection, a big accumulation of people surrounding me, the phone endlessly ringing, people asking for autographs in a massive way, and press, lots of press....for the good and for the bad.
Three years ago, when I was going to debut in the Tour, a painful experience due to an illness hampered the start, this almost cost me my life and my professional career.
On top of my health frustration, being involved in a doping scandal which provoked my team to exclude me from the Tour of 2006 was not any less frustrating. It was a situation of impotence, sadness and disillusion that changed my vision of the sport, the sport which I am giving the best years of my life, the sport in which, as a mentioned in the letter I wrote last year, I have always practiced cleanly, with spunk, hard work, and a great deal of illusion.
Today, from my position as the winner of the Tour 2007, the most important race of the world, the race that any cyclist dreams of winning, a race that I won with effort and honesty, I ask you an effort also to keep believing in bicycling and in me.
And because I have won this race in clean way and because I have greatly enjoyed your enjoyment in front of your screens, I will promise you that you will continue enjoying my participation since my goal, other that winning the race, is to make bicycling an attractive and admired sport by all.
That is why, I find it impossible to comprehend the attacks against me, doubts of my honesty as a sportsman, from people that don?t really know me but that feel capable of judging evaluating my conditions seen on the screen, diagnosing the nature of physical capacities and my moral tendencies. Some of them even claim to be doctors. The doctors that I know, who made it possible for me to be here after treating my illness, would not talk in public about their patients, not even to mention the patients of other doctors.
I HAVE NEVER COMITTED AN ACT OF DOPING, I HAVE NEVER PARTICIPATED IN A ACT OF DOPING and those who know me know what I think about it. My compromise against doping is absolute and you would always find me willing to collaborate; that?s why I have met, in every moment, the normative in bicycling; that?s why, trimester after trimester and year after year I send the U.C.I the questionnaires of location for being controlled at any moment that this sport?s authorities consider is necessary; that?s why I have passed surprise and programmed exams, in my own house and in competitions, during seasons of rest, blood and urine tests, which logically are way more that what any other participant of the race has to take.
I count with a full support of the U.C.I,, (Consejo Superior de Deportes), Spanish Federation of bicycling and State Secretary of Sports, Jaime Lissavetzky. The place of celebration of this act endorses my information.
Furthermore, I am willing to take part of as many studies as needed for the authorities for matters of doping including my D.N.A.
I don?t know if there?s anything left to do to be considered as a Just Winner of the race; but if after this appearance, in which I express my absolute collaboration, the defamatory information and attacks still persists, which affect my family, my team, sponsors and peers, I would recur to the legal sources from any Rule of Law.
If the immeasurable damages towards me are compensated economically, part of it would go towards the fight of doping.
This is the contribution that Alberto Contador Velasco, winner of the Tour 2007, provides to the credibility and renaissance of the new cyclism, which would not be possible without the media, authorities, laws and amateurs.
Thank you to everybody
Madrid, August 10th, 2007
Thank you for reading 20 articles this month* Join now for unlimited access
Enjoy your first month for just £1 / $1 / €1
*Read 5 free articles per month without a subscription
Join now for unlimited access
Try first month for just £1 / $1 / €1