How many bike brands can you identify from their logos?
Think you know your Colnago from your Cannnodale? Time to prove it in this bike brand logos quiz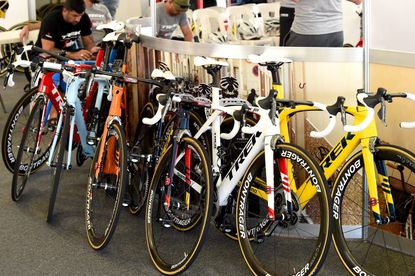 (Image credit: Watson)
If you're reading this, you probably already know that cycling is the best sport. But it's not just riding and watching the professionals that cycling can offer those interested in it, but also how geeky you can get with the technology.
Continuous innovation in the WorldTour eventually trickles down to local bike shops, and if you've got the money to spend you can have the same build you've just watched someone winning the Tour de France on.
Even better, the range of specifications means you can get a decent bike at affordable prices, and ride the level of bike that suits your riding. No one wants to be the person walking the Shimano Dura-Ace Di2 equipped Dogma up a small hill at a sportive... But we all love changing down through our Shimano 105 cassette to breeze past.
This edition of the cycling quiz tests your technological knowledge, sort of, but seeing how well you can identify different bicycle frame brands from their logo. The photos are snippets of larger images of the bikes in action, so see if you can tell your Giant from you Genesis or your Cube from your Cervélo.
Thank you for reading 20 articles this month* Join now for unlimited access
Enjoy your first month for just £1 / $1 / €1
*Read 5 free articles per month without a subscription
Join now for unlimited access
Try first month for just £1 / $1 / €1