Name these 11 riders from the 90s
For this week's cycling quiz we ask you to identify these 11 cyclists from the 1990s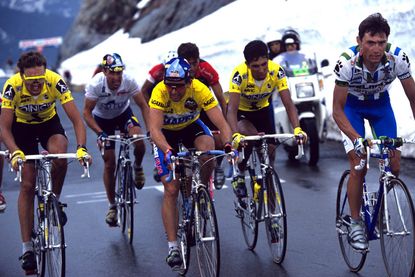 (Image credit: Watson)
On the whole, the 1990s is looked back on as something of a tainted period in the history of professional cycling.
Doping didn't start then, and unfortunately it's certainly not behind us, but it's this decade that is arguably most associated with cheating in our sport.
>>> How scientists are fighting doping in cycling
Performance-enhancing drug use was prevalent, and scandals regularly hit the headlines around the world. But for this week's cycling quiz we aren't debating whether the Texan should get his Tour de France 'wins' back, or whether or not "well everyone else was doing it" should ever be said out loud.
We just want to see how many of their faces, clean or doped, you can recognise. There are Grand Tour winners, runners up and jersey takers. See how many you can get, and if in doubt there's a one in three chance you'll pick the right answer anyway, so give it a go.
Thank you for reading 5 articles this month* Join now for unlimited access
Enjoy your first month for just £1 / $1 / €1
*Read 5 free articles per month without a subscription
Join now for unlimited access
Try first month for just £1 / $1 / €1
Jack Elton-Walters hails from the Isle of Wight, and would be quick to tell anyone that it's his favourite place to ride. He has covered a varied range of topics for Cycling Weekly, producing articles focusing on tech, professional racing as well as cycling culture. He moved on to work for Cyclist magazine in 2017.