Should Lance Armstrong get 'his' seven Tour de France titles back?
We asked Cycling Weekly readers whether they think the 1999-2005 Tour de France titles should be reinstated to Lance Armstrong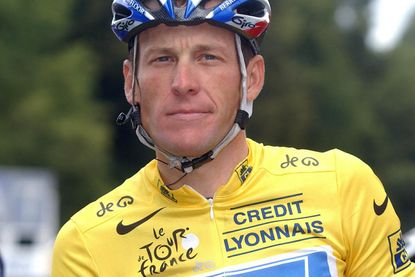 (Image credit: Graham Watson)
Lance Armstrong continues to be a highly divisive character among fans of professional cycling. The Texan former pro rider was officially stripped of seven Tour de France victories (1999-2005) and handed a lifetime ban after admitting to doping throughout his career.
Armstrong may be divisive, but what is agreed is that he was not alone. His US Postal team operated a system of blood doping and use of banned performance-enhancing drugs but so, too, did a large number of other riders and teams in the same era.
Some feel that Armstrong's position as one of the highest-profile cyclists in history had unfairly made him a scapegoat: his race victories were stripped, where others who have also admitted doping have kept theirs.
>>> WADA chief says Lance Armstrong's lack of apology is 'regrettable'
Others feel that it is precisely because of Armstrong's high-profile position and the way that he went about lying, deceiving and covering up his doping that he should be made an example.
We recently asked Cycling Weekly readers whether they think Armstrong should get 'his' seven Tour titles back, and here are a selection of the responses we received.
Do you agree, or disagree? You can add you comment in the box below.
Look at the sport at the time. Lance did cheat, but so did everyone else. No one says anything about all the other riders. How much influence did one guy have on the sport? Huge. Look how many people cycle now thanks to Lance's prominence. Give him the titles back.
Chris Cole
I've thought long and hard about it. No, I can't think of a single reason. There is no place in sport for drugs. 'Everyone else was doing it' isn't an excuse or a reason.
Alan Fretten
You give him his titles back you have to give every doped winner their titles back. Then, if you do that, what's the point of testing if the rules are not enforced? It becomes a mockery.
Steve Hislop
UCI needs to show some consistency. Lifetime bans for all dopers. Otherwise the sport has no credibility.
Kris Newton
Biggest case for it: Astana still has its licence and titles. The industry needs to pick. Either we come down hard on all dopers, especially those caught, or we don't care and allow it. The flip-flopping needs to stop.
Sam Sacalis
The guy ruined Dodgeball. For this he deserves to be removed from the history of sport.
Ross Woodward
He is an amazing athlete — with or without the dope. All the other dopers of the time could not achieve what he did. As to his character and his approach to the saga, that is disappointing.
Jason Davis
Am I right in thinking that if it was not for Lance, cycling would not be the international sport that it is today? I honestly did not know about cycle racing until Lance's first win after cancer. I found that such a great story I started watching the TdF just to watch him.
Bree Christian
Stop the witchhunt. Draw a line and move on. My DVDs, books and memories from Tour visits to the high mountains recall Lance as the seven-time winner. A UCI ruling never changed history.
David Mason
Leave it... there is no case. Let's look to the future not the dirt of past un-glories.
Steve Barlow
During that era, a vast majority doped. So in essence, they were all on a level playing field. Let him have his titles.
Daniel Curry
Why ask the question? The guy should not be given any more publicity.
Greg Wright
Thank you for reading 20 articles this month* Join now for unlimited access
Enjoy your first month for just £1 / $1 / €1
*Read 5 free articles per month without a subscription
Join now for unlimited access
Try first month for just £1 / $1 / €1