Dave Brailsford: 'We do things the right way, and we've always done things the right way'
Team Sky boss also criticises UKAD chair for describing select committee evidence as "extraordinary" and "very disappointing"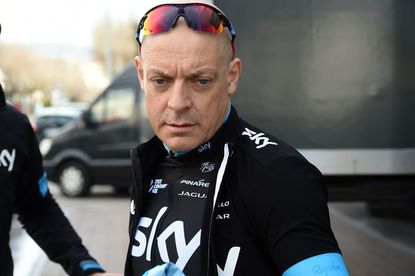 Dave Brailsford has said that his personal credibility and the credibility of Team Sky will recover from recent controversies, saying that the "test of time" will prove him and his team have done nothing wrong.
Speaking at a pre-season media day, Brailsford defended the team, saying "we do things the right way, and we've always done things the right way.
"I've been doing this for 20 years now and we've performed very, very well for a long, sustained period of time.
"I'm sure we'll continue to maintain and sustain that level of performance into the future and I think that's the acid test. That will prove beyond doubt that we do things the right way."
>>> Chris Froome seeks to distance himself from Team Sky controversies
The Sky team principal also criticised David Kenworthy, the chair of UK Anti-Doping (UKAD), for comments made on Saturday where he described the evidence provided by Brailsford to a parliamentary select committee about the contents of a mystery package delivered to the team at the 2011 Critérium du Dauphiné as "extraordinary" and "very disappointing".
"I think the only extraordinary thing is the chairman of UKAD's comments the other day when he commented about an ongoing investigation," Brailsford said.
"Most fair-minded people recognise that there's a process in place to try and establish exactly what went on, and we should wait till the end of that process, see what the findings are, see where we are at that moment, and when that's all established, then we can all move on from there."
"To try and dive in and undermine that process... I don't think most fair-minded people would not think that that's the best way of doing things."
>>> Team Sky 'confident' that UK Anti-Doping report will put them in the clear
Brailsford, Team Sky, and British Cycling (where Brailsford previously previously worked as performance director) have all been under scrutiny in recent months over the use of TUEs by leading riders, and the contents of a medical package delivered to the Team Sky bus at the 2011 Critérium du Dauphiné.
Brailsford told MPs in December that the package contained Fluimucil, a decongestant used to treat chest infections, although neither the select committee to which he was giving evidence nor UKAD have said that they've received any paperwork to confirm the package's contents.
Thank you for reading 20 articles this month* Join now for unlimited access
Enjoy your first month for just £1 / $1 / €1
*Read 5 free articles per month without a subscription
Join now for unlimited access
Try first month for just £1 / $1 / €1