Di Luca positive for EPO at the Giro d'Italia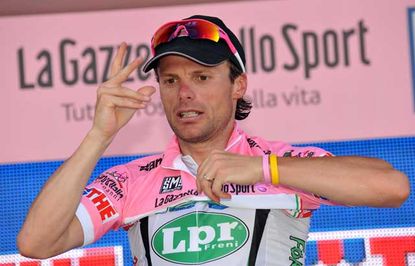 Danilo Di Luca tested positive for EPO on two occasions during the 2009 Giro d'Italia, the Union Cycliste Internationale (UCI) has announced this afternoon.
The Italian rider has been provisionally suspended from competition after blood samplestaken on May 20 (stage 11) and 28 (stage 18) during the race returned a positive test for CERA, a new form of the banned blood-boosting drug EPO.
"These adverse findings were a direct result of a targeted test programme conducted on Mr Di Luca using information from his biological passport's blood profile, previous test results and his race schedule," read a statement issued by the UCI.
The LPR Brakes rider will be banned from competing until the Italian Cycling Federation can deal with the case and decide whether a doping violation has been committed. Di Luca can also request that his 'B' samples are tested.
Di Luca placed second in the 2009 Giro d'Italia behind winner Denis Menchov (Rabobank).
It's not the first time that Di Luca's name has been linked with doping. The rider was hauled into an investigation in 2007 relating to the 'oil for drugs' scandal, which focused on Di Luca's godfather, Dr Carlo Santuccione,
who is alleged to have supplied athletes with banned substances.
Thank you for reading 5 articles this month* Join now for unlimited access
Enjoy your first month for just £1 / $1 / €1
*Read 5 free articles per month without a subscription
Join now for unlimited access
Try first month for just £1 / $1 / €1