FRENCH NEWSPAPER CLAIMS ARMSTRONG ADMITTED EPO USE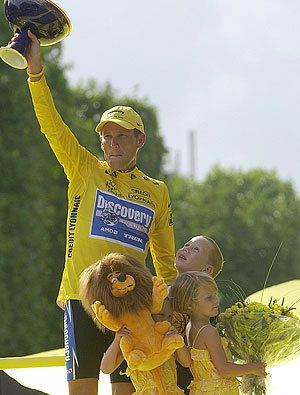 Prestigious French newspaper Le Monde on Friday claimed Lance Armstrong admitted he has taken the performance-enhancing drug erythropoietin (EPO) and other banned substances before being treated for cancer in 1996.
The paper says Armstrong?s former team mate Frankie Andreu and his wife Betsy said under oath at a hearing of a Texan arbitration case between Lance Armstrong and prize money insurance company SCA that they heard Armstrong admit to taking 'EPO, testosterone, growth hormones and cortisone', before he began his treatment for testicular cancer.
SCA had refused to pay Armstrong a $5million bonus after winning the 2004 Tour de France because of the accusations of doping thrown up by David Walsh?s ?L.A Confidentiel? book.
"In front of (Motorola team-mate) Frankie Andreu and his wife, who have testified under oath in Dallas, Armstrong said he had taken 'EPO, testosterone, growth hormones and cortisone'," Le Monde reported.
Armstrong has always denied taking banned substances and has promised to respond to the latest accusations shortly.
During the court case Armstrong denied making an admission, adding that if Betsy Andreu had testified against him, it's because she hated him and her husband Frankie backed her up to support her.
A reported third witness to the scene, Stephanie McIlvain who works for Oakley sunglasses ?one of Armstrong?s leading personal sponsors, denied hearing that Armstrong admitted taking banned substanced.
According to Le Monde a recorded phone conversation from September 2004 between Greg Lemond and McIlvain offers a different version.
Le Monde reports: ?McIlvain says (to Lemond) "if I'm asked to take the stand, I'll do it (...) Because I won't lie. You know I was in that room. I heard."
None of the three other witnesses present in Armsttong's hopstial room on October 28, 1996 were asked to testify. They are Armstrong's girlfriend at the time, Lisa Shiels, his long-term and close friend Chris Carmichael and his wife Paige. Neither of the doctors who operated on him were called to the stand either.
Without offering judgment whether or not the Texan took EPO, the Dallas court ultimately ruled in favour of Armstrong in the case.
The court ruled that the insurance company could not deny him the money based on suspicions when sporting institutions had not called into question his victory.
Thank you for reading 20 articles this month* Join now for unlimited access
Enjoy your first month for just £1 / $1 / €1
*Read 5 free articles per month without a subscription
Join now for unlimited access
Try first month for just £1 / $1 / €1