FROM THE CW ARCHIVES: THE 1987 GIRO D'ITALIA PART 4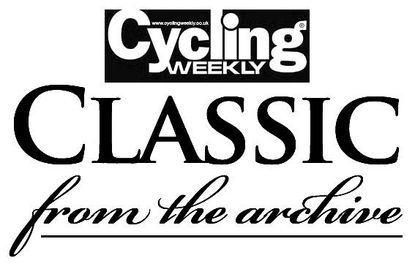 Get The Leadout Newsletter
The latest race content, interviews, features, reviews and expert buying guides, direct to your inbox!
Thank you for signing up to The Pick. You will receive a verification email shortly.
There was a problem. Please refresh the page and try again.
Completely our look back through the Cycling Weekly archives with the final week of the 1987 Giro d'Italia. The Italian fans are openly hostile to Irish race leader Stephen Roche, perceiving that he attacked his team-mate and defending Giro champion Roberto Visentini. Roche fought to win them over ? and clinch the Giro.
PREVIOUS PART
Giro 87: Week two, War in the Carrera team
Stage 16, Sappada to Canazei: Johan Van der Velde
Stephen Roche who had to contend with hostility both from the public and his team, held onto his lead as Johan Van Der Velde (Gis) won his second stage in succession.
Roche did not know if he was going to start the stage until one o? clock in the morning after the Carrera team had been split apart after Roche?s displacing of Roberto Visentini as race leader.
Most of the team would not speak to Roche and it was Carrera boss Tito Tachella who decided that both Roche and Visentini should carry on in the Giro after he dashed to the race to sort out the problem.
Tachella ordered that none of the team?s riders should speak to the press until the Giro had finished and that as far as Carrera were concerned stage 15 was to be forgotten.
With that said the stage began. Roche was only able to depend on the Belgian member of Carrera, Eddy Schepers who stayed by his side. Roche let Jean-Claude Bagot (Fagor) go clear with Italian Roberto Pagnin (Gewiss) on the first slopes of the Passo di Gardena, in the heart of the Dolomites.
At the top of the Passo Pordoi (150 kilometres), the highest point of the Giro, Bagot led by one minute from a group which included Roche and Visentini. On the descent Van der Velde jumped away and rejoined Bagot on the Marmolada, a steep 14-kilometre climb. Roche with the faithful Schepers, Robert Millar, Marino Lejaretta, Joakim Mugika, Pedro Munoz, Erik Breukink, Peter Winnen, and Visentini were at 2-00.
Toni Rominger was the only one of the top riders missing. At the end of the day he was to lose his second place overall, conceding 1-17 to Roche.
At the top of the climb Van der Velde lead by 2-45 from Millar and friends. On the descent Visentini tried to get away from Roche, who was having trouble with his bike at the time. He was pulled back before the finish and to prove a point Roche went for the sprint for second place but that went to the world champion Moreno Argentin instead with Roche fourth and earning himself a five second time bonus.
?It was terrible for me today?, Roche said ?the public was abusive, punching me and spitting at me, they pushed Visentini on the climbs. The Giro directors have got to get this stopped. If they do not they will have to station an ambulance behind me. It cannot go on like this for another week.
?I tried to talk to Visentini today but he would not.? At the stage finish Roche demanded to go on television to tell his side of the story. ?I did not harm anyone on the stage to Sappada. If I win it will be great. If it is Roberto Visentini that will be all right. I have been a professional for seven years. I have always given the maximum and I always try to satisfy the public from start to finish of races,? Roche told the television audience.
Stage 17, Canazei to Riva del Garda: Marco Vitali
The truce observed by Roche and Visentini allowed the Italian Marco Vitali to win at Riva del Garda. Roche and Visentini finished together in a group that included all the top riders, except for Toni Rominger and Moreno Argentin, but they finished 8-37 down after Vitali and his companions Alessandro Paganessi and Marco Giovanetti who had broken away early on in the stage.
Giovanetti, 25, a gold medal winner in the Los Angeles Olympics in the team time trial, came close to taking the leader?s jersey, as with 50 kilometres to go he and the break led the race by 13 minutes and the Italian was only 11-55 behind Roche overall.
His lead started to vanish after he punctured and Eddy Schepers, Roche?s faithful team-mate, pushed up the pace in the bunch. In the run in to the finish Vitali, 27, who has a philosophy degree, led out a long sprint to win the stage.
?I felt better today. The race organisers reinforced the race security by putting motor cyclists at the front and by the side of my group.? Roche said. ?The bad weather also kept the crowds down. When the break had their big lead Schepers and Leali helped me organize the chase. The team must win this Giro. There must be no more disagreements. I was even clapped as I crossed the line. Now I believe I have just two riders to watch, Millar and Lejaretta.?
Stage 18, Riva Del Garda to Trescore Balneario: Giuseppe Calcaterra
The riders took an unofficial day off today as they prepared themselves for the last tough days of the Giro.
?After the hard laps in the Dolomites we decided to take it easy,? said Italian Bruno Leali, the spokesman for the riders. So it was that the peloton rolled along well under ?evens? for the 213 kilometres. It was only with 30 kilometres to go that the speed picked up as the sprinters started to jockey for positions.
The attacks came thick and fast. The Italians Emanuele Bombini and Franco Chioccioli tried their luck, but they were soon brought back. Steve Bauer took a flyer with five kilometres left, but he too was fetched back. Then race leader Roche moved to the front. The pace jumped up as the Irishman showed who was the boss. He went clear, staying 100 metres ahead of the rest of the field, which split under Roche?s pressure.
Roche led for two kilometres before leaving the sprinters to fight out the last battle. Phil Anderson took up the running as they hit the finishing straight with 200 metres left, but in the last 100 metres he was overtaken and Giuseppe Calcaterra won the day from Paolo Rosola and Johan Van der Velde. It was Calcaterra?s first Giro success. Earlier this season he won the Nice-Alassio race and was second overall in the Tirreno-Adriatico stage race.
As for Roche and Visentini they still had to settle their differences after spending the stage ignoring each other. Roche seemed calmer than he had a few days earlier although Visentini promised that he would be attacking Roche?s position in the final mountain stages.
?I had a nice quiet day. My left leg is no longer bothering me,? said Roche. ?At the end of the stage I even tried to help Guido Bontempi win. I have overcome my moral breakdown. Today the public was more sporting. I even saw banners supporting me. I will not say that I have won the Giro, there are still four stages to go and things could still change. However if Visentini attacks me he will be committing a grave error,? Roche said.
Visentini was still not prepared to make up with Roche. ?I am waiting for Carrera to take sanctions against Roche and Schepers after the Giro,? Visentini said. ?The Fagor team is riding for Roche, in collusion with Millar of Panasonic,? he added. ?If the chance arises on Wednesday or Friday the last two mountain stages, I will try to mount an offensive to put Roche in difficulty,? the Italian said.
Stage 19, Trescore Balneario to Madesimo: Jean-Francois Bernard
Jean-Francois Bernard won this mountain leg and Briatin?s Robert Millar moved up to within 1-35 of Roche thanks to a 15-second time bonus for taking second place to Bernard. As for Roche he remained race leader after marking his ?team mate? Visentini and Dutchman Erik Breukink, who was only 33 seconds behind Roche overall.
Stage winner Bernard, who learnt his trade riding with Bernard Hinault, put in a class performance to win at Madesimo. Bernard made his move as the bunch relaxed after the climb of the Passo di San Marco. Some of the ?stars? were already in trouble. World road champion Moreno Argentin and Toni Rominger were five minutes behind the race leaders as they climbed between the snow-covered banks of the San Marco mountain.
Bernard, with Roland Le Clerc, Marco Vitali and Gody Schmutz led by 1-10 as the last climb of the day approached. On the climb Bernard jumped away. He took the many hairpins in his stride and maintained a steady pace as he faced the last 18 kilometres alone.
Spain?s Marino Lejarreta made his move with five kilometres of the climb remaining. He was quickly followed by Pedro Munoz and Millar. One hundred metres down the road Roche, Breukink Van der Velde and Visentini climbed together. Roche brought back Breukink who tried to escape from the group as Bernard crossed the line to win from Millar and Lejaretta. Van der Velde led in Breukink, Schepers, Roche, Visentini and Munoz 1-32 after Bernard.
?I planned to attack today,? said Bernard. ? I came to the Giro unfit after losing two weeks of training because of knee trouble. There was no question of my hoping for a high placing overall, but we needed to win a stage for the team,? he commented.
As for Roche he had been surprised by the finish. ?I thought it was flat, I was surprised by the climb. The two climbs today were very difficult, they were like those in the Tour de France. This was the stage I feared the most. Friday?s mountain stage will be much easier.?
Visentini complained again about those who were collaborating with Roche.
?Everyone is content to be behind him in the overall table. He is having an easy time. If one goes too fast everyone waits for him [Roche],? Visentini said.
Stage 20, Madesimo to Como: Paolo Rosola
Paolo Rosola proved he is the best sprinter in this year?s Giro when he won his third stage of the race at Como. After 10 laps of the four-kilometre finishing circuit Rosola turned the power on as he hit the last straight and finished ahead of his team-mate Alberto Volpi and Eddy Planckaert.
Roche finished in the bunch with all the race leaders except second place Erik Breukink who crashed with one kilometre to go. He was soon back on his feet and lost no time overall. Peter Pieters and Marco Zen were not so fortunate, both broke their collarbones. With the help, at last, of his Carrera team Roche set the pace at the front of the bunch so that Breukink was unable to gain any of the time bonuses available on each lap of the finishing circuit. Roche came another step closer to his greatest win and with the arrival of his wife Lydia at Como he had another reason to be happy.
?The day was without incident for me, it was mainly for the sprinters. We had to make sure that Breukink did not get any of the time bonuses and when a break went clear that suited us,? Roche said.
As for Rosola he was happy to have proved his ability as a sprinter. ?I am on my way to my best season ever,? he said.
Breukink was full of praise for his Panasonic team. ?When I fell I was afraid that I would lose a lot of time on Roche, but Nulens gave me his bike and Winnen got me back into the bunch,? the Dutchman said.
Britain?s Robert Millar had come to the Giro only interested in the mountain competition. ?Friday?s stage is our last chance to beat Roche,? Millar said.
?With Breukink we will try something. We are in an ideal position to put Roche in difficulty if Breukink is going well, for I cannot do anything that makes him lose his second place,? the Scotsman said. Britain?s other representative Sean Yates retired after crashing.
Stage 21, Como to Pila: Robert Millar
Robert Millar won his first Giro stage after he, Stephen Roche and Marino Lejaretta blew the field apart on the final climb. Millar?s performance also lifted him to second overall.
As for Roche?s arch-rival and team-mate Roberto Visentini, he crashed to finish six minutes behind Millar and Roche.
As the 15-kilometre climb to the finish began Roche attacked. At that point there was a 20-strong group, with all the top riders, which had formed on the Col de Joux.
Erik Breukink was in trouble and when Roche went to the front to lift the pace and only Millar and Lejaretta were able to stay with him.
Roche led Millar and Lejaretta all the way up the climb and 200 metres from the line Millar jumped to win the stage with Roche second, at three seconds and Lejaretta third at seven seconds.
Millar, who confirmed his position as the race?s best climber, said: ?I waited for the finish before I attacked, I was not sure if I would win if I went too early, I was afraid Roche would come back at me and Lejaretta looked good.?
?At the start of the climb my team-mate Breukink was with us and we had to protect his second place overall. I did not think there was much we could do against Roche on this stage.?
?From the first kilometre of the last climb he went very fast and it was impossible to jump him. I am very satisfied with my ride today for my aim before the Giro started was to win the mountain classification and a stage. That is done. On top of that I have taken second place overall, but it would need a miracle for me to get in front of Roche,? Millar added.
Roche had been bucked up with the arrival of his wife on the race. ?This morning I started feeling great. When I attacked I did not know Visentini had crashed. I wanted to get more time on Breukink before the time trial, he was only 33 seconds behind me overall. Now things were looking much better overall. After the Giro I will go back home to Ireland to rest and get away from it all,? Roche said.
Stage 22, Aoste to St Vincent time trial, Stephen Roche
This was the day that Roche had been looking forward to, when he could prove who was best in the Carrera team Roche, or the unhappy Visentini. But Visentini, winner of last year?s Giro was a non-starter. After his crash the previous day he had his right wrist in plaster.
Starting last Roche, on a low-profile machine, knew that he had to win to prove his worth to the crowds that lined the route. That is what he did, covering the 32 kilometres in 44-23 to beat Dietrich Thurau by 14 seconds. Milan Jurco was third at 45 seconds. Robert Millar was 10th at 1-53 while his team-mate Erik Breukink was fifth at 1-03 so Millar kept his second place overall.
?I gave everything I had to win this time trial,? Roche said. ?I got time checks all the way. I wanted to prove there was no doubt about my victory.?
?I will have happy memories of this success and prefer to forget the upsets. Now I am looking forward to a long rest.?
?I achieved my objectives in the Giro, now for the Tour de France,? Millar said.
?Without Greg LeMond in the Tour there will be no favourite to win. Fignon is not going well. I will concentrate on the overall race classification.?
1987 GIRO D?ITALIA FINAL OVERALL
1. Stephen Roche (Ire) Carrera in 105-39-32
2. Robert Millar (GB) Panasonic at 3-40
3. Erik Breukink (Ned) Panasonic at 4-17
4. Marino Lejaretta (Spa) Caja Rural at 5-11
5. Flavio Guipponi (Ita) Del Tongo at 7-42
6. Marco Giovanetti (Ita) Gis at 11-05
7. Phil Anderson (Aus) Panasonic at 13-36
8. Peter Winner (Ned) Panasonic at 13-56
9. Johan Van der Velde (Ned) Gis at 13-57
10. Steve Bauer (Can) Toshiba) at 14-41
The first Irish grand tour champion: Stephen Roche
1987 GIRO D?ITALIA LINKS
Giro 87: Main page
Giro 87: Opening weekend, Roche takes the pink jersey
Giro 87: Week one, Roche still in control
Giro 87: Week two, War in the Carrera team
Giro 87: Week three, Roche clinches it
Thank you for reading 20 articles this month* Join now for unlimited access
Enjoy your first month for just £1 / $1 / €1
*Read 5 free articles per month without a subscription
Join now for unlimited access
Try first month for just £1 / $1 / €1
Get The Leadout Newsletter
The latest race content, interviews, features, reviews and expert buying guides, direct to your inbox!
Founded in 1891, Cycling Weekly and its team of expert journalists brings cyclists in-depth reviews, extensive coverage of both professional and domestic racing, as well as fitness advice and 'brew a cuppa and put your feet up' features. Cycling Weekly serves its audience across a range of platforms, from good old-fashioned print to online journalism, and video.