Gary Kemp: The Big Interview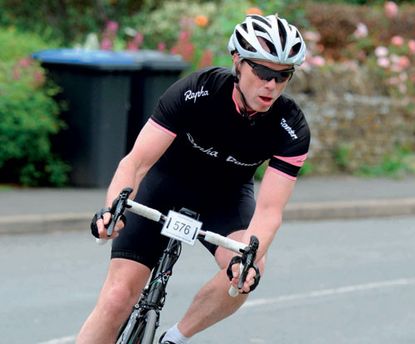 Figureheads of the New Romantic movement Spandau Ballet are the latest '80s pop group to reform and take to the road.
The big hair and extravagant costumes may be consigned to history after a 25-year gap, but the whole band looks in good shape, none more so than guitarist Gary Kemp.
The Londoner is determined to stay fit, having shed 14 pounds since starting riding, but may find it tricky fitting in training rides once the big tour starts.
Did your old pal Robert Elms have some involvement in getting you started on the bike?
GK: He did. He used a familiar tactic and it came via clothes. Robert said he had been for a four-hour fitting for a bike and it was just like having a suit made, and I thought that sounded good.
I feel like a charlatan, but I'm nevertheless someone who has become passionate in a short space of time. It's the combination of endorphins and the aesthetic, and I have got into the whole culture of it as well.
You certainly seem to have thrown yourself into cycling in a big way...
GK: I am so addicted to this now that there isn't a road I drive on in my car where I am not thinking 'this would be great on a bike'. I can hardly sleep the night before a ride because I am so excited.
Cycling has so much beautiful history. I have got a whole library of mountaineering books that I have been reading since I was a kid, and they have been pushed aside in favour of cycling books.
How do you find riding and training in London?
GK: I'm a West End boy, so Regent's Park is my circuit. You can always find somebody to ride with on the Outer Circle. And we have got a place in the Cotswolds I go to every weekend. The Lake District was my initiation last year, when I decided to go up Hardknott pass, and stopped, well, more like fell to the side. I probably need a 27 sprocket to get up there.
Have you done any organised rides?
GK: I was planning on going to the Etape [du Tour] but it has all been cancelled as Spandau Ballet has taken over once again. But I have managed to pencil in the Rapha Blackpool sportive. We will be working in a studio in the Chilterns over the summer, so I will take the bike and that will be my 6am wake-up call.
I did the Circuit of the Cotswolds sportive recently. I wasn't used to that distance, so the second half was really hard. I thought I liked hills, but Cleeve Hill is something else. This is quite perverse, but I loved the sound of hundreds of pairs of cleats on the floor at the start, it was quite exciting.
Mmm. It used to be the smell of embrocation in the old days. What about leg shaving?
GK: Don't try and persuade me! My wife won't let me. It certainly looks damn good but who knows what it's really about. My wife has got into riding now, but the bike is a bit of a 'Boy's Own' thing. It's a good way of getting out with a bunch of guys, and it's not just about the riding. It is about stopping for an espresso as well.
What's the appeal of riding?
GK: It's a bit like playing guitar. When I play, I am only thinking about the four bars ahead of me. When I ride, I only think about the 100 yards ahead and what gear I am in. I can forget all about the crap of business and all of that.
What bike do you have? Is it the Fender Stratocaster equivalent of cycles?
GK: Ha ha! The first thing I did was go and get something fitted. I got a Litespeed, thinking titanium would be a good place to start. Then I had to find out what it would be like to ride a carbon, and wanted something with a bit of history and tradition, so I got a Colnago C50.
Very nice. Is anyone giving you any guidance?
GK: When I was doing a climb on the Circuit of the Cotswolds, an old guy told me to slow down: "You have only got a certain amount of fuel, and you won't make it all the way," he said. He told me to follow his pace and when I got to the top, it was good. I tend to get out of the saddle and imagine I am Lance Armstrong climbing Alpe d'Huez, but, of course, I am all spent by half way up.
These old guys do know a thing or two, don't they?
GK: Yeah, he was saying "sit up on the bike, loosen your arms", and all of those things that really do make a difference.
Will you be able to take the bike with you when the European tour starts?
GK: Some bands have done that before: Kraftwerk, I think. I am getting a flightcase made for it. And I will take it on holiday in the south of France. There are some brilliant hills around St Tropez. Studying the tour schedule I thought I could probably cycle Sheffield to Glasgow... or maybe not.
I will never be old enough to play golf, but I am 50 this year and needed something to be passionate about that got me out of the house. And I found it, and kicked myself that I didn't find it earlier. I want to do this until I fall off.
The band has been out of the spotlight for a long time now. Can they still cut it?
GK: We are a bit of a British institution now, and a lot of people will be coming along who have never seen us before. That is why I can relate to Lance Armstrong. Are we still going be able to win on the comeback?

Spandau Ballet's European tour starts in Dublin on October 13. See www.spandauballet.com for date details.

Thank you for reading 20 articles this month* Join now for unlimited access
Enjoy your first month for just £1 / $1 / €1
*Read 5 free articles per month without a subscription
Join now for unlimited access
Try first month for just £1 / $1 / €1