Halfords to open up to 30 Cycle Republic stores in London
The retailer has revived the Cycle Republic brand which it closed down in 2009, with a possible 30 stores set to open in the capital.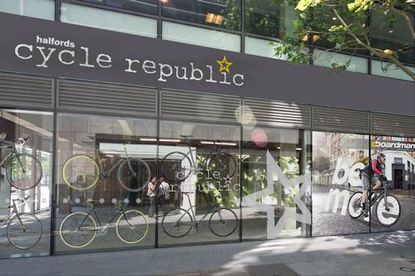 Halfords have announced they plan to open up to 30 new Cycle Republic shops in London, with the first set to open in Euston next month.
As announced by CW in September, the retailer has revived the brand it closed down in 2009 due to the "phenomenal" growth of the sport.
Halfords acquired Boardman Bikes in June and unveiled their new 13 Bikes range in September in an effort to tempt prospective customers with affordable bikes.
"We are after everyone. Millions of people commute into London day in, day out," Halfords chief executive Matt Davies told the Evening Standard.
"They have very little access to buy affordable bikes. With Boardman it offers them great value at significantly lower prices than similar brands."
The news comes after Halfords announced their profits were up 11% to £49m, with cycling sales up 16%.
A second store will pop up in the West End soon after the Euston Tower branch opens for trading, with the expansion likely to spread across the UK.
Source: Evening Standard
New range of road, mountain, hybrid and cyclo-cross bikes available exclusively through Halfords
Chris Boardman says "we've got what we wished for" in the sale of Boardman Bikes to Halfords
Thank you for reading 20 articles this month* Join now for unlimited access
Enjoy your first month for just £1 / $1 / €1
*Read 5 free articles per month without a subscription
Join now for unlimited access
Try first month for just £1 / $1 / €1