What ingenious bike repair has got you home after a mechanical disaster?
This week's Big Question challenged you to suggest some unusual bicycle repairs you've used in order to get home during a ride. In association with Decathlon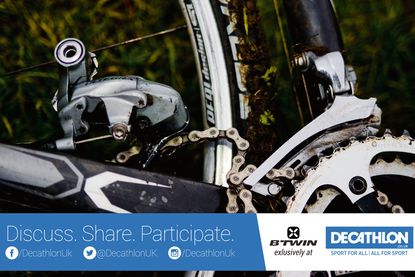 (Image credit: Alamy Stock Photo)
Punctured are annoying...but you can fix them. But then there's those mechanicals that just come out of nowhere, for no more reason than you just haven't had one in a while, and bring any hope of a good ride to an immediate halt.
But cyclists are a canny lot, and there's any number of ingenious solutions to the weird and wonderful mechanicals that have happened on the history of the bicycle.
>>> Cycling's fashion police are banging at your door. What item in your wardrobe is going to land you in trouble?
We asked you, the readers, to suggest some of your most inventive fixes that have allowed you to get home. Presented in association with Decathlon.
Add your suggestions in the comments section below.
What ingenious bike repair has got you home after a mechanical disaster?
Tyre wall and tube exploded on club run. Stuffed complete tyre with long grass. Rode 20 miles home slowly.
Geoff Backshall
Chain joined with a keyring. Had to be careful not to put that part of the chain through the mechs, but it got me home.
Gino Bartali
Back in the early 80s, I had a steel Oschner frame snap off both seatstays right at the seat lug after a steep uphill sprint. It was like having early rear suspension. As a trackie, I rode with double toe-straps, so I removed one of the straps and wrapped and bound the broken seatstays back onto the seat lug and nursed it home over 20 miles.
Scott Schwartz
After one too many punctures on a long ride and no more tubes, I picked the bike up and ran. It was a few days after Chris Froome's Ventoux escapades so I felt it was only right.
Michael McEwan
Not really a 'disaster', but after a couple of spokes had broken while touring up in northern Scotland, and only having the wrong-sized spokes with me, a bit of messing about with pliers produced some articulated spokes of the right length. I think I ended up with about four of these in my back wheel, which got me home to Lancashire no problem. Counterintuitively, they work because a bike actually hangs from the top of the rim and the working spokes are always in tension.
Nigel Lewin
A few years ago I was miles from home with five or six clubmates. One member of the party felt a strange sensation as we cycled up a small incline and he noticed when he looked down that all his chainring bolts bar one had fallen out and his bike was about to become unrideable. Four of us each donated a single chainring bolt to him and we all rode home safely.
Martin Kerans
Seatpost snapped right near the top while out mtb'ing, miles from nowhere. Took off gloves and socks and tied round the sharp top of the seatpost and pedalled the few hours back out of the saddle, Contador-style.
John Backhouse
The new plastic fivers make perfect tyre boots if you slit your tyre! Fold them up a few times, and away you go.
Gavin Hudson
On one occasion I had to ring my daughter to pick me up after a mechanical. Getting my bike inside a Fiat 500 required astounding ingenuity.
Dave Pargeter
After crashing my mtb and pulling the threads off the QR nut, we got the bike back down the hill to the visitor centre by cable-tying the axle onto the dropouts! Sketchy, but it worked.
Brandon Ridgway
It's going back a few years but I held a knackered bottom bracket together with a leather toe-strap. Couldn't do it these days with clipless pedals.
Phil Rush
Out on a cyclocross ride and got a second puncture with one inner tube. I tied a knot where the puncture was to isolate the hole. That got me home 10 miles without an issue!
Luke Houghton
Cut piece of popped inner tube using chainring to patch split in tyre. Lasted 90 miles allowing me to finish RideLondon last year.
Martin Millington
My friend's chain snapped on a ride when we were 15 miles from home so I found some rope in a field close by and towed him back.
Soloman Adams
Thank you for reading 20 articles this month* Join now for unlimited access
Enjoy your first month for just £1 / $1 / €1
*Read 5 free articles per month without a subscription
Join now for unlimited access
Try first month for just £1 / $1 / €1