It's going to be strange to try and beat Cavendish, says Etixx-QuickStep sports director
It may take a while for riders, teams and fans to get used to the sight of Etixx-QuickStep riding for Marcel Kittel and against Mark Cavendish, says team DS Brian Holm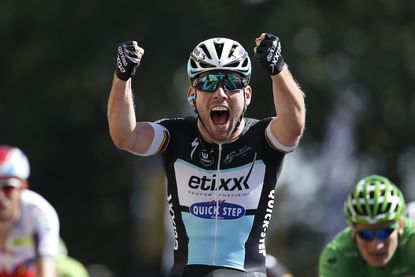 (Image credit: Yuzuru SUNADA)
Mark Cavendish without Etixx-QuickStep, Marcel Kittel without Giant-Alpecin's train, and Etixx trying to beat Cavendish in sprints... The 2016 sprints will be 'strange' for both the fans and the teams with Cavendish and Kittel in new colours, says Etixx Sports Director Brian Holm.
Cavendish left Etixx after three years to ride for team Dimension Data, and German Kittel essentially took Cavendish's spot when he left Giant after five years.
"It's exciting for the fans, the public, but it's exciting for the team also," Holm told Cycling Weekly.
"With Kittel, I wonder what was wrong with him last year. I read that he wasn't racing because he was a bit ill, his sports director said because he was a bit lazy, so I guess we'll see who's right.
>>> The man, the myth, the hair: Specialized welcomes Marcel Kittel (video)
"Of course the team change is exciting. It was strange to fight against [André] Greipel when he left HTC for Lotto, and now it's going to be strange for everyone here because Cav was a very well-liked rider in the team. From top to bottom, everyone loved him and they were sorry when he left. And to try to beat him now is going to be a strange feeling for everybody.
"Though, it's nice to be happy when someone else wins, like when Greipel won three or four stages at the Tour. When Cav was beaten, I was happy when it was Greipel who won because he's a good kid."
The two could face each other for the first time in the Dubai Tour, February 3 to 6, where Kittel will make his 2016 season debut. Cavendish could have an advantage getting up to speed since his lead-out man Mark Renshaw switched with him from Etixx to Dimension Data, and Bernhard Eisel will be at his side again. Kittel joined Etixx on his own in a last-minute deal.
>>> Cavendish: I see Dimension Data becoming the biggest team in pro cycling
"I still say the best lead-out man ever was probably Renshaw, it's a pity that he didn't stay here now but he went with Cav, and the best road captain who I ever worked with was for sure Mr Bernie Eisel, nobody could beat him in organising.
"In the last kilometres, they know their job like no one else in cycling. But in cycling it's more than the last kilometres, sometimes it's even about 200 kilometres with cross-winds.
Watch: Secrets of the Toolbox - Giant-Alpecin
"[Kittel is] starting to fire again. I remember 2014, he really kicked our ass in Dubai, that wasn't fun, I think he came from Australia and upped his game in Dubai and we were really blown away.
"If we fail from the start, we'll probably say it'll take the guys a few months, but if we win from the start, will probably say we got it right from the start! We have an excuse or reason for each case."
Thank you for reading 20 articles this month* Join now for unlimited access
Enjoy your first month for just £1 / $1 / €1
*Read 5 free articles per month without a subscription
Join now for unlimited access
Try first month for just £1 / $1 / €1