IVAN BASSO DOPING VERDICT DUE THIS WEEK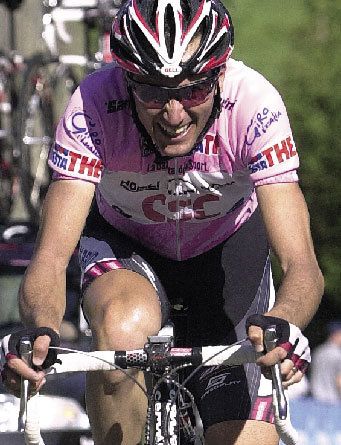 Ivan Basso has said he is optimistic that he will be cleared of doping and will soon be able to race again after the second hearing of the Italian Olympic Committee doping commission on Friday, September 29.
During the hour-long hearing, Basso?s lawyer Massimo Martelli presented new evidence in his defence and formally asked for the case to be closed. The Italian Olympic Committee said a decision would be announced in the next few days.
?I?m optimistic and at the same time nervous about the verdict but I?m not worried because I?ve always answered every question I?ve been asked,? Basso told journalists who waited outside.
?I?m ready to race even tomorrow if I get cleared because I?ve been training hard but that doesn?t mean I?ll start racing immediately after the sentence.?
?I think we?ve made another step towards the end of this case. I?m convinced I?ll soon be able to race again. I?m only 28, I have to race again. I?ve still got ten years on front of me as a professional cyclist.?
In recent weeks there has been speculation that Basso and CSC team manager Bjarne Riis have fallen out and that Basso may ride for another team in 2007 but he denied he had fallen out with CSC.
?I?m still a CSC rider and my contract last for another two years. After the sentence has been announced there will be a meeting between me and the team to decide what happens in the future,? Basso said.
?I?ve talked to Bjarne Riis in the last few weeks but we haven?t talked a lot because there hasn?t been any need. There?s a lot of confusion and speculation about my relationship with Riis but we?ve agreed to talk after the sentence.?
Contrary to what UCI President Pat McQuaid said on Saturday, Basso?s lawyer claimed that no further evidence will be forthcoming from Spain and so insisted that Basso is not implicated in ?Operacion Puerto?. He also claimed that the publication of certain pieces of evidence in the press may mean they cannot be used as evidence and so casts doubt on all the documents produced by the UCI.
?I don?t want to be polemic but nothing is going to come from Spain, I?m sure of that because I was told that from legal people involved in the case in Spain in the last few days.?
?It?s obvious that the trial is still on going but at the moment there is no proof that indicates any other evidence will come from Spain.?
?I wish the over the top comments from the President of the UCI were kept to a minimum and directed through the right legal channels. If the UCI wants take action they should do so because were ready and forced to face them.?
Thank you for reading 20 articles this month* Join now for unlimited access
Enjoy your first month for just £1 / $1 / €1
*Read 5 free articles per month without a subscription
Join now for unlimited access
Try first month for just £1 / $1 / €1