James May reveals his life-long love of bikes and cycling
Grand Tour presenter James May says that he has not been without a bike since he was three, and that the bicycle is 'one of the most important inventions in history'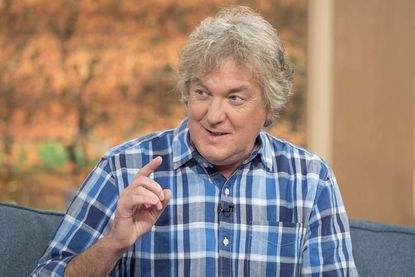 (Image credit: Ken McKay/ITV/REX/Shutterstock)
Former Top Gear presenter James May has revealed his love of the bicycle and of cycling.
Writing on the Drivetribe website, which is also home to words written by fellow Grand Tour presenters Jeremy Clarkson and Richard Hammond, May says "riding a bicycle feels good".
May recounts that his father helped him ride his Raleigh Mayflower bike aged three and that he's been cycling ever since.
>>> Jeremy Clarkson criticises Jeremy Vine's 'selfish' cycling
"Some time around the age of three-and-a-bit, my dad whipped the stabilisers off my Raleigh Mayflower, gave me a short shove, and off I went. I could ride a bike, and I've been able to do it ever since, because it's a bit like riding a bike."
May tells us that he has now taken up cycling regularly again.
"I've been doing a fair bit of recreational cycling lately, simply because I'm feeling old and I've got a bad back," said May. "It's knackering but, after all this time, not difficult."
Being the technically-minded person that he is, May also writes about the mechanical advantage of riding a bike as oppose to walking. And also laments that many people who ride bikes so so inefficiently and do not maintain their bike properly.
"How has the technical literacy of our society evolved to the point where this global and interactive digital edifice can exist but no-one can make the few simple adjustments necessary to make a bicycle derailleur shift correctly? "
May concludes his piece by underlining what all cyclists know: the feeling of freedom afforded by riding.
"Your bicycle is a great liberator, first base in a lust for mobility that leads all the way to the Lamborghini Aventador. If you're going to do it, do it properly. You're wasting your breath."
We'd probably stick to cycling, however, rather than switch to the cramped cabin of a Lambo.
Thank you for reading 5 articles this month* Join now for unlimited access
Enjoy your first month for just £1 / $1 / €1
*Read 5 free articles per month without a subscription
Join now for unlimited access
Try first month for just £1 / $1 / €1