JASON MACINTYRE MEMORIAL FUND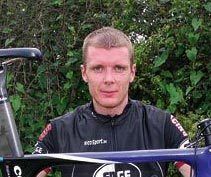 Scotland's Braveheart Cycling Fund has launched a memorial fund to help the family of Jason MacIntyre, the time trial champion who was tragically killed on Tuesday after a collision with a vehicle whilst out training.
MacIntyre was the full-time carer for one of his twin daughters, who suffers from a medical condition that meant she required constant attention. The fund aims to raise £20,000 to help the MacIntyre family care for their daughter for two years.
The Braveheart Cycling Fund had already allocated £2,000 to Jason MacIntyre to support his riding for the 2008 season. This money has been transferred to the memorial fund.
If you want to find out more about the Jason MacIntyre Memorial Fund, the Braveheart Cycling Fund or make a donation go to www.braveheartfund.com.
RELATED LINKS
MacIntyre dies after accident
Thank you for reading 20 articles this month* Join now for unlimited access
Enjoy your first month for just £1 / $1 / €1
*Read 5 free articles per month without a subscription
Join now for unlimited access
Try first month for just £1 / $1 / €1