Junior time trial champion Gabriel Evans admits EPO use
18-year-old rider Gabriel Evans says he bought and used EPO in August, ahead of victory in the junior National 10 TT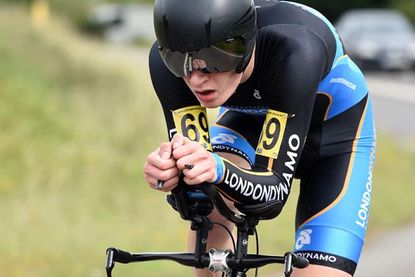 (Image credit: Andy Jones)
British junior national 10-mile time trial champion Gabriel Evans has admitted to using banned blood booster EPO in a statement posted on an internet forum.
Within the statement, published on the Timetrialling forum on Thursday, the 18-year-old rider admits to buying and using EPO in August. He was apparently caught with a vial of the drug during a Catford CC Equipe/Banks training camp in France by a team-mate's father, who notified UK Anti-Doping (UKAD).
>>> Gabriel Evans: curiosity and loss of national title led to EPO use
"On 3 August 2015 I bought EPO for the first time. On 11 August 2015 I travelled to France for a weeks training camp with the family of a then-teammate," wrote Evans.
"With me I brought one vial of EPO. This was found by the teammate's father who presented evidence to UK Anti-Doping. UKAD contacted me shortly after to arrange a deposition, in which I promptly admitted to all wrongdoing. I withdrew from the upcoming Junior Tour of Wales, the premier event on the junior calendar."
>>> British Masters Champion Andy Hastings given four-year doping ban
Evans said that he only rode one event after taking EPO - the British 10-mile TT championships, in which he took the junior title.
"I did not have this race in mind when I used the drugs; I realise that competing was (another) huge mistake but at the time my intent was not malicious," said Evans of his 10-mile TT ride.
"I was hoping to regain some normality and that the whole mess would somehow be swept under the rug. I have now forfeited this title."
>>> Gabriel Evans: curiosity and loss of national title led to EPO use
Evans used the statement to apologise for his actions, in particular those riders who finished behind him in the National 10, and to warn others not to follow the same path.
"I would also particularly like to apologise to the competitors and organisers of the 2015 Junior National 10 TT, especially to those three riders who were cheated out of medals," he said.
"If there is anybody reading this who is considering using PEDs, know that my choice has turned out to be immensely destructive and has seriously affected my personal life."
In addition to the 2015 National 10 title, Evans won the junior category of the National 25 in 2014.
The case raises serious questions as to how Evans obtained the EPO in the first place, and how he developed the mindset to use the drug.
Evans's admission comes on the same day that UKAD confirmed that British Masters champion Andy Hastings had been handed a four-year ban for a doping violation.
Thank you for reading 20 articles this month* Join now for unlimited access
Enjoy your first month for just £1 / $1 / €1
*Read 5 free articles per month without a subscription
Join now for unlimited access
Try first month for just £1 / $1 / €1