Katusha not suspended by UCI after Commission rules conditions for ban were 'not met'
Katusha will be allowed to continue racing after the UCI Disciplinary Commission ruled that Luca Paolini's cocaine use was not performance enhancing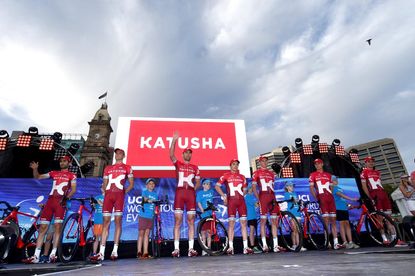 (Image credit: Watson)
Katusha will not be suspended for their anti-doping discretions after the UCI's Disciplinary Commission ruled that the conditions for a suspension were not met.
In its findings, the Commission adjudged that Luca Paolini's cocaine use, which was detected in an anti-doping control at the 2015 Tour de France, was not related to influencing his sporting performance.
Instead, it was concluded that it was taken on a recreational basis, going on to state that recreational drugs could not be reconciled within the aim of the UCI rule 7.12.1, which talks about suspending teams that produce two Adverse Analytical Findings.
"Even if, strictly speaking, such a case falls within the application of the anti-doping rules for the rider concerned, the imposition of negative consequences for the whole team would be inappropriate and disproportionate," the Disciplinary Commission statement read.
"It is understood that the intention of the article is to impose negative consequences on teams that lack control of doping for sporting purposes by their athletes, or if even worse scenarios exist, and/or if teams are not doing enough to fight such doping."
The president of the Commission ruled that it would be disproportionate to suspend the team on the basis of one of its members using a social drug.
Katusha's second drugs test failure occurred last week when Eduard Vorganov tested positive for meldonium - a drug used to treat patients with chronic heart failure.
Thank you for reading 20 articles this month* Join now for unlimited access
Enjoy your first month for just £1 / $1 / €1
*Read 5 free articles per month without a subscription
Join now for unlimited access
Try first month for just £1 / $1 / €1