Kohl admits he started doping at 19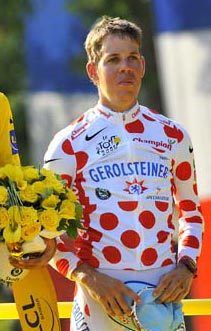 Bernhard Kohl, the Austrian cyclist caught taking CERA at the 2008 Tour de France, has announced that he will never race again, and has admitted he started doping as a teenager.
In a statement published on his website, Kohl said that he "no longer wanted to live a life based on lies". He also apologised for deceiving spectators and fans.
"I doped voluntarily in a system in which you cannot win without doping," Kohl said.
"The weeks after [being caught] were tough for me. But after discussions with friends and family, I realised that a return to professional cycling was a return to a life of doping and lies."
Kohl is currently serving a two-year ban from competition after testing positive for banned blood-boosting drug CERA - a form of EPO - at last year's Tour de France. Kohl had won the king of the mountains competition and was third overall.
Kohl has admitted using the drug, and for receiving blood transfusions during the Tour de France. He stated that he started doping when he was just 19 years old as part of an institutionalised system. Kohl now want to devote his time in promoting clean sport to young riders and athletes.
"The fight against doping must start with cleaning up young athletes," Kohl said. "Young sports people should be able to celebrate success without doping."
Last week, Kohl and Danish rider Michael Rasmussen were at the centre of allegations that they had purchased a centrifuge to aid blood doping. Both riders shared the same Austrian manager, Stefan Matschiner.
Matschiner has been the subject of police investigation in Austria for his part in organised doping among athletes from a variety of sports.
RELATED LINKS
Boonen to return to racing next week
Kohl's former manager arrested on drug charge
Kohl accepts ban, trains as chimney sweep
Kohl confirms he doped
Rasmussen out of 2007 Tour de France
CERA: New scourge of the peloton
Thank you for reading 5 articles this month* Join now for unlimited access
Enjoy your first month for just £1 / $1 / €1
*Read 5 free articles per month without a subscription
Join now for unlimited access
Try first month for just £1 / $1 / €1