Lords bill to guarantee British cycle funding
Amendment to infrastructure bill would ensure government publishes binding cycling and walking strategy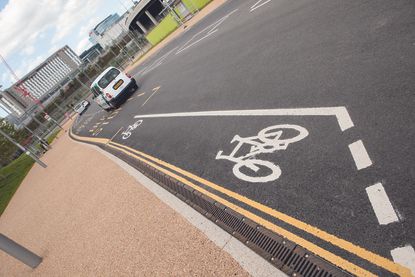 (Image credit: Daniel Gould)
Ongoing cycling funding could be guaranteed in the same way rail and roads funding currently are, if an amendment to the Infrastructure Bill in the House of Lords is successful.
Bill amendments, proposed by Lords Berkeley and Judd, and supported by six walking and cycling campaign groups, would require the government to publish a binding cycling and walking strategy, and answer to parliament if the strategy's goals were not met.
The amendments, to be tabled when the Lords return from the summer recess on September 1, and supported by the Campaign to Protect Rural England, British Cycling, CTC, Sustrans, Campaign for Better Transport and Living Streets, could help put an end to the sporadic funding which prevents councils planning long-term for cycling infrastructure.
The Campaign for Better Transport's Chief Executive, Stephen Joseph, says: "It's inexcusable that the Department for Transport says it can't guarantee spending on walking and cycling beyond 2016, when it's already doing that for rail and roads. With the Infrastructure Bill not expected to become law until March 2015, this amendment will keep the pressure on MPs right up to the election."
The proposed cycling and walking strategy is divided into four parts:
1. A long term vision to increase walking and cycling among the whole UK population in both rural and urban areas
2. A 'Statement of Funds Available' setting out national funds to be spent on walking and cycling in the next five years
3. A detailed investment plan showing which programmes and schemes will be funding, for example cycle-rail integration, safe cycling and walking routes along busy roads or better junctions
4. A performance specification with targets and details of how success will be measured, by increasing walking and cycling levels, improved safety or proportions of schools and stations with safe routes
Campaigners have long been calling for a £10-20 per head spend on cycling nationwide, where currently funding for cycling is focussed on a handful of cities and national parks, and isn't guaranteed past 2016. The Campaign for Better Transport points out Germany increased cycling from 10% to 14% of journeys in just five years while England's cycling levels have stagnated at around 2% since the mid 90s, with rural areas seeing a marked decline in walking and cycling rates.
Ralph Smyth, Senior Transport Campaigner at the Campaign to Protect Rural England, said: "The combination of a tripling of spending on road-building, further cuts to local authorities and an end to ring-fenced budgets for sustainable travel will squeeze investment in walking and cycling. England desperately needs to catch up with neighbouring countries and make physically active forms of travel the norm for everyday journeys. But the funding picture is now so bleak, we risk not just huffing and puffing but actually dropping out of the race."
Martin Key, Campaigns Manager of British Cycling, said: "Outside London it's as if the funding tap is going to be turned off for walking and cycling after 2016. This is not just about new safe routes for cycling or more attractive town centres - without guaranteed investment, local roads and pavements could crumble beneath our wheels and our feet."
Thank you for reading 20 articles this month* Join now for unlimited access
Enjoy your first month for just £1 / $1 / €1
*Read 5 free articles per month without a subscription
Join now for unlimited access
Try first month for just £1 / $1 / €1