Mechanical scuppers Mark Cavendish's Milan-San Remo chances
Manxman says he dropped his chain on the ascent of the Cipressa and was unable to recover enough to stay with the lead group to the finish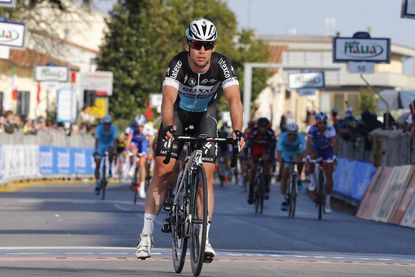 (Image credit: Watson)
Mark Cavendish's says his chain slipped-off his bike towards the finale of the 2015 Milan-San Remo on Sunday, causing him to lose time and possibly a second victory in the monument, which was won by Giant-Alpecin sprinter John Degenkolb.
A kilometre-and-a-half before the top of the Cipressa climb, around 23 kilometres to race to San Remo on Italy's northwest coast, the chain came off the outside of the Etixx-Quick Step rider's Specialized bicycle. He was apparently using an unmarked SRAM chainring, instead of a team issue chainring from sponsor FSA.
It was the second time in recent weeks the Brit had suffered such a mechanical; dropping his chain and causing a crash behind on the run-in to the sprint on stage two of Tirreno-Adriatico earlier this month.
"It crippled me," Cavendish said at the finish in San Remo. "It didn't just cost me a little bit, it crippled me. Losing a chain with a K-and-a-half to go [to the top of the climb], you can't close the gap there."
The 2009 winner rode about 20 metres behind the main group with teammates Zdenek Stybar and world champion Michal Kwiatkowski.
Cavendish said that he had to ride 650 to 700 watts on the climb after he began again to keep the gap at a minimum and that he returned to the main group on the descent before the final Poggio climb, but he was "crippled" from the mechanical.
"It just cooked me. I was on my limit after that, you can't afford that on the top of Cipressa when you are a sprinter. It just cooked me," he added.
"I wasn't able to keep moving up. It wasn't that I was getting dropped, but you need to keep moving up and keep fighting for position, and I just didn't have the energy to keep doing it, to keep doing those little accelerations on the Poggio, so every corner I was losing a couple of positions, it just put me too far back."
Unfortunately for Etixx, their other leaders Stybar and Kwiatkowski were involved in a crash on the descent from the Poggio hillside town. Cavendish kept going, but could only manage 46th.
The Manxman was using an FSA chainring the day he suffered a mechanical at Tirreno, but not the standard one that his team-mates were using.
The team's sport and development manager, Rolf Aldag told Cycling Weekly last week that he should use a standard one for today's one-day monument, but Cavendish instead raced on what was an unmarked chainring. According to our investigation, he rode a SRAM chainring that the mechanics had blacked out.
Aldag could not comment on today's incident because he said that he had not yet heard about Cavendish's chain problem.
"It happened when we were on the flat bit of the Cipressa, you should never be dropped there," Cavendish added.
"My chain came off on the outside like in Tirreno-Adriatico, like it happened to Tom [Boonen] and a few guys this year. I don't know what part of the bike is causing it, it's pissing me off."
Cavendish also had to deal with the after-effects of a virus that he picked up in South Africa ahead of Tirreno. Before the virus, he had won five races, but afterwards, he missed that kick.
He thanked his team for riding him into good position along the 293km race from Milan to Liguria's seaside, but added that he is "no where near the form" he had before the virus struck.
"I was really on my limit the whole day," Cavendish said. "We did what we wanted to do, it just kind of went to shit a bit at the end."
Thank you for reading 20 articles this month* Join now for unlimited access
Enjoy your first month for just £1 / $1 / €1
*Read 5 free articles per month without a subscription
Join now for unlimited access
Try first month for just £1 / $1 / €1