Movistar's Andrey Amador: 'Police stopped me and threw my bike' (video)
Costa Rican pro Andrey Amador stopped by police on a road he shouldn't be riding on, and later apologises for his behaviour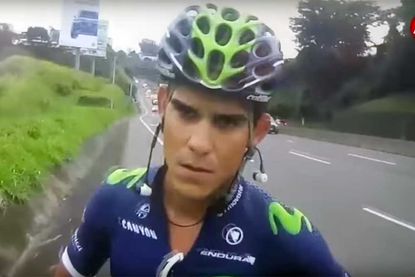 Movistar rider Andrey Amador says that police near his home in San José, Costa Rica, stopped him and threw his Canyon bicycle to one side for cycling on a prohibited highway.
Costa Rica's most famous cyclist – a stage winner and wearer of the pink jersey in the Giro d'Italia – posted a video explaining the incident. In response, police released a video at the moment Captain Ovares issues Amador a fine.
"You do not know who I am," said Amador in the video.
"If you grab me and throw my bike, I have to pay what it is worth. It's worth more than your damn motorbike."
The video shows Amador stopping.
"But not here," the captain repeated several times. "Do not make things more difficult."
AS newspaper reports he pushed Amador off his bike and Amador responds, "You do not know who I am."
>>> Which WorldTour team has the best kit for 2017?
Amador, 30, said that he saved his Garmin computer before the captain took his bike.
In his video later, Amador said, "I want to apologise to those who have offended, for riding on a highway which can put lives at risk.
https://www.youtube.com/watch?v=8ZD4JIEYU_I
"I am very upset about the way [the police officer] acted. I fell off my bike and he almost toppled me. Until there came a point that I started to push back, risking my life and integrity.
"I did not like the way he grabbed my bike, threw it. I just wanted to stop later, not in the middle of the road, which was dangerous for me and for everyone."
The police officer wanted Amador to stop immediately on the highway.
In response, Mario Calderon, director Transit Costa Rica, said: "One of its goals is to save lives and therefore we asked him to stop to minimise that risk. For me it is a matter of prevention, [the police officer] uses a tool that has, which is the motorcycle to slow down and minimise his speed."
Thank you for reading 5 articles this month* Join now for unlimited access
Enjoy your first month for just £1 / $1 / €1
*Read 5 free articles per month without a subscription
Join now for unlimited access
Try first month for just £1 / $1 / €1