NICOLE COOKE IN TALKS WITH GERMAN NURNBERGER TEAM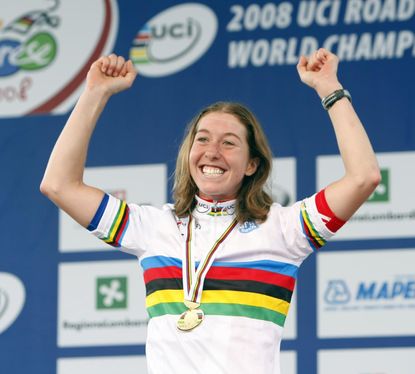 The manager of the Nurnberger Verisherung team has told Cycling Weekly that he has held negotiations with Nicole Cooke about her joining the German team for 2009.
The Olympic and world champion is looking for a new team after the demise of the women's Halfords-Bikehut women's team. Herbert Oppelt said negotiations are still underway but admitted he would love to have Cooke in the team.
This year the Nurnberger Verisherung team finished second in the women?s World Cup competition behind the dominate Team Columbia squad. However team leader Edita Pucinskaite has left the team, meaning there could be the space and the budget to sign Nicole Cooke.
?Nothing happened yet but we?re in talks with Nicole to study the possibilities of her riding for us,? Oppelt said.
?Because she?s not staying with the British Halfords team I understand she?s talking to several teams at the moment. Our talks went well but we?ve got to work out if it would be good for our team and Nicole is considering if it will be the right thing for her. There are a lot of ideas and co-operation but we?ve got to understand how it would all work out.?
?I?ve always stayed in contact with Nicole in the last few years and we?ve often looked at the possibility of her riding for us. This time talks are more serious and I?d love Nicole to be part of our team next season. It depends on lots of different things but things could be clearer at the beginning of November.?
RELATED LINKS
Ed Clancy considering his options for 2009
Wednesday's British news round-up
Tour of Britain: 2009 dates announced
Thank you for reading 20 articles this month* Join now for unlimited access
Enjoy your first month for just £1 / $1 / €1
*Read 5 free articles per month without a subscription
Join now for unlimited access
Try first month for just £1 / $1 / €1