Oleg Tinkov: 'I trust Brailsford and Wiggins'
Owner of Team Tinkoff, Oleg Tinkov, adds his voice to the furore surrounding Bradley Wiggins' TUE for triamcinolone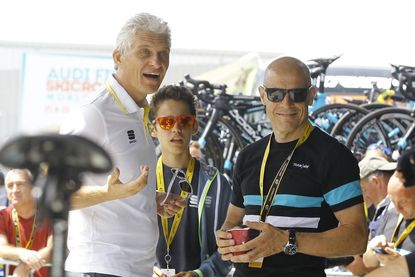 (Image credit: Graham Watson)
Tinkoff cycling team owner Oleg Tinkov has issued a statement in support of Team Sky and their team principal Dave Brailsford in the debate surrounding Bradley Wiggins's therapeutic use exemption (TUE) certificate for triamcinolone.
The Russian businessman says that he can't believe the 'negative' comments levelled at Team Sky, Brailsford and Wiggins after Russian hacking group Fancy Bears published a TUE for 2012 Tour de France winner Wiggins that showed he had intra-muscular injections of the corticosteroid in 2011, 2012 and 2013. Wiggins was riding for Sky at the time of the injections.
Brailsford appeared on British television on Monday to defend Sky's use of TUEs to administer controlled substances for medical reasons. Wiggins was given triamcinolone to treat allergies and asthma.
>>> Sir Dave Brailsford suggests Team Sky are looking to make all TUEs public
Tinkov made the statement via his Instagram account, along with a photograph of himself and Brailsford. He wrote: "I don't understand why people are so negative and jealous, in general? I don't believe team Sky could ever had any organised doping program.
"It is impossible in the modern cycling. Period. I have been a principal of the cycling teams for over six seasons and never ever my rider was involve with doping. These days are over."
Triamcinolone is on the World-Anti Doping Agency (WADA) Prohibited List, but can be taken by an athlete to treat a medical condition with a relevant TUE. Critics of the system have argued that triamcinolone should not be taken with or without a TUE.
Tinkov is disbanding the Russian-registered Tinkoff WorldTour team at the end of the 2016 season, and is set to leave the top-level of professional cycling. He says that he leaves a sport in good shape.
"Cycling is better than you think," said Tinkov. "I trust Brailsford, Wiggins and [Chris] Froome and I don't have to, since I probably even will never met them again."
Brailsford and Wiggins have both stated that the use of triamcinolone was for strictly medical rather than performance-enhancing reasons.
>>> Steve Cummings explains his TUE for asthma medication
Brailsford said on Monday that Sky is reviewing its policy regarding TUEs, and may openly publish any TUE issued to their riders. Currently, TUEs are confidential as they are part of an individual's medical history.
The hacking group Fancy Bears has so far published five batches of TUEs that it illegally obtained by hacking into the World Anti-Doping Agency's computer files. It has published TUEs from many athletes from a wide variety of sports.
British cyclists Wiggins, Froome, Callum Skinner, Laura Trott and Steve Cummings are among those to have their TUEs published online. There is no evidence of wrong-doing by any athlete.
Thank you for reading 20 articles this month* Join now for unlimited access
Enjoy your first month for just £1 / $1 / €1
*Read 5 free articles per month without a subscription
Join now for unlimited access
Try first month for just £1 / $1 / €1