Olympic-size outdoor velodrome opens in Middlesbrough this week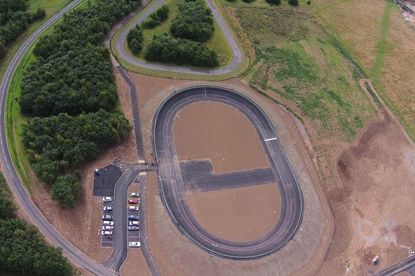 Middlesbrough Sports Village will open its £1.6m Olympic-sized outdoor velodrome on Friday (September 17), giving cyclists in the area the chance to train on a world-class facility.
The 250m track, funded partly through a £500,000 contribution from British Cycling, sits next to an existing 1km cycling circuit and sees the sports village grow its offering to cyclists.
>>> Plans revealed for 250m outdoor velodrome in Essex
British Cycling's coaching, education and development director, John Mills, said: "We're delighted that the Middlesbrough Velodrome is set to open this week.
"With less than one year to go until the Olympic and Paralympic Games, having another facility of this standard reflects the great progress that has been made in cycling infrastructure here in the UK.
"It's fantastic that British Cycling clubs are going to have access to the track and therefore increase the spectrum of activities they are able to offer."
>>> New Herne Hill velodrome facilities get the go ahead
Sessions will be available for accredited cyclists on Tuesdays and Fridays (6-8pm) and Wednesdays (12-1pm). Find out more information at the Middlesbrough Sports Village website.
Thank you for reading 20 articles this month* Join now for unlimited access
Enjoy your first month for just £1 / $1 / €1
*Read 5 free articles per month without a subscription
Join now for unlimited access
Try first month for just £1 / $1 / €1