Painkillers in the peloton
Alex Dowsett speaks out against pill culture in the pro peloton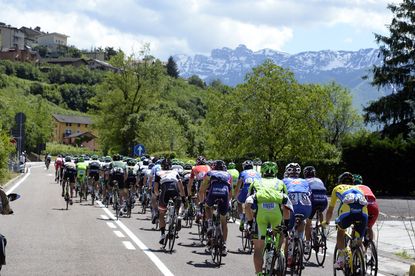 (Image credit: watson)
Alex Dowsett is against the use of painkillers in professional cycling after having once tried the prescription analgesic tramadol in a training session.
The triple British national time trial champion has also highlighted the consumption of sleeping medication at races, echoing other young riders who have suggested the sport needs to move away from an apparent 'pill culture'.
"I tried [tramadol] once in a training time trial as I didn't want to try anything new in a race," the Movistar rider told CW. "I actually didn't like it at all and I completely disagreed with it as well because of what it did.
"It gave you a hangover the next day. I went out of the blocks way too hard and just blew my doors because you can't feel anything. You've gone way over your limit but your body is unaware of it," he added.
The comments come after CW reported earlier in May on the concerns that tramadol, prescribed to treat acute pain, was being used in the professional peloton during training and races to enhance performance.
Hurt pride
"Us time triallists, like [Taylor] Phinney, like Steve Cummings, who don't take anything for a race, we pride ourselves on how much we can hurt," Dowsett added. "Suddenly every rider in the peloton can take this tablet to just numb the pain, and that's exactly what it does."
The 25-year-old said his motivation for once testing tramadol was that "it seemed like the thing to do", though he strongly emphasised taking it a single time was enough.
"It's when an older rider says, 'That's what we all do in time trials,' and the young rider is like, 'Oh, alright, yeah. If they do it, it must be right,' because of the experience there.
"The thing is, when we become the old, experienced pros and the youngsters come in and say, 'What do you do before a time trial?' we'll say have a double espresso, warm up and go."
Dowsett believes that a pill culture, including sleeping medication, remains an issue in the sport.
"It's not present in other sports to rely so heavily on that kind of thing," he said. "While we're now one of, if not the cleanest sport, there is still this reliance on things that come in a tablet form. In every team that I've been in, the doctor does the rounds at night and it's not a case of if they want the sleeping tablet, it's how many, or which ones.
"That's not normal in everyday life and I think it's bad."painkiller debate
UCI stance on tramadol
Following last week's story, the UCI has since responded to CW's request for a comment on the use of tramadol in cycling. A spokesperson said in a statement: "In March 2011 the UCI formally requested that WADA [World Anti-Doping Authority] consider adding tramadol to the List of Prohibited Substances.
As a consequence of the UCI's initial request, tramadol was added to the WADA Monitoring List in 2012. The UCI's position on tramadol remains the same as it was in 2011."
Team Sky issues statement in wake of comment made by former rider Michael Barry that the team used powerful painkiller
Lotto-Belisol team doctor Jan Mathieu thinks that use of powerful painkiller Tramadol by some riders is causing spate of crashes
Thank you for reading 20 articles this month* Join now for unlimited access
Enjoy your first month for just £1 / $1 / €1
*Read 5 free articles per month without a subscription
Join now for unlimited access
Try first month for just £1 / $1 / €1