Team Sky: We do not use Tramadol
Team Sky issues statement in wake of comment made by former rider Michael Barry that the team used powerful painkiller Tramadol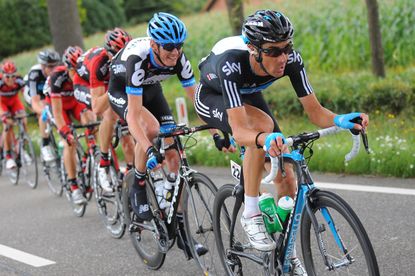 (Image credit: Graham Watson)
Team Sky issued a statement on Monday clarifying that it does not administer controversial painkiller Tramadol to its riders, either during training or racing.
The statement comes in the wake of an admission made by former Sky rider Michael Barry that he used Tramadol whilst riding for the team in 2010 and allegations that he saw other Sky riders using it whilst racing. "Tramadol made me feel euphoric, but it's also hard to focus. It kills the pain in your legs, and you can push really hard," Barry told the Times in a piece published on Monday morning.
Earlier in April, Lotto-Belisol team doctor Jan Mathieu claimed that the widespread use of Tramadol in the peloton was a factor in the number of crashes during the Spring Classics. Tramadol is an opioid, and like other substances in that group it causes drowsiness as a side-effect, which in turn causes the rider to lose concentration.
"None of our riders should ride whilst using Tramadol — that's the policy of this team," said Sky in a statement. "Team Sky do not give it to riders whilst racing or training, either as a pre-emptive measure or to manage existing pain.
"We believe that its side effects, such as dizziness and drowsiness, could cause issues for the safety of all riders. We also feel that if a rider has the level of severe pain for its appropriate use they should not be riding."
Tramadol is not currently banned by the World Anti-Doping Agency, although it is monitoring its use and abuse in sport. Cycling teams that have voluntarily signed up to the Movement for Credible Cycling (MPCC) do not use the drug. Sky is one of a number of teams, including BMC and Omega Pharma-QuickStep, that are not members of MPCC.
Sky said that it had held its position on Tramadol "for the last two seasons", which does not contradict Barry's statement that he used it on the team during 2010. Sky stated that it would like to see Tramadol added to WADA's list of controlled substances, and that it should only be used with an appropriate Therapeutic Use Exemption (TUE) certificate.
Barry retired from professional cycling in September 2012, and a month later admitted that he had used banned blood booster EPO and testosterone during his time on the US Postal team with Lance Armstrong from 2003 to 2006.
At the time of his admission, Barry told the New York Times that he had raced clean with Sky from 2010 to 2012, but said: "To tolerate the races and the lifestyle, far too many riders rely on addictive sleeping pills and painkillers that are permitted but extremely strong. Team doctors hand them out without considering the long-term effects".
As a result of his admission to doping, Barry was suspended for six months up until March 2013 by the United States Anti-Doping Agency.
Barry's statement regarding Tramadol is the latest awkward situation for the Sky team to deal with. Sky rider Jonathan Tiernan-Locke is currently the subject of a disciplinary procedure for biological passport anomalies pertaining to a period before he joined the team. And Sergio Henao was withdrawn from competition by the team in March after questions were raised by its own internal out-of-competition control tests.
Lotto-Belisol team doctor Jan Mathieu thinks that use of powerful painkiller Tramadol by some riders is causing spate of crashes
Michael Barry suggests a new league for professional cycling to help eliminate doping
Canadian Michael Barry, a former team-mate of Lance Armstrong, admits to doping whilst at US Postal
Team Sky confirms that Colombian Sergio Henao will not race for eight weeks whilst altitude testing takes place to explain
Union Cycliste Internationale requests disciplinary procedure against Jonathan Tiernan-Locke on basis of anti-doping violation
Thank you for reading 20 articles this month* Join now for unlimited access
Enjoy your first month for just £1 / $1 / €1
*Read 5 free articles per month without a subscription
Join now for unlimited access
Try first month for just £1 / $1 / €1