'People say Team Sky crossed the ethical line, but if they can prove they've done nothing wrong then the system's wrong'
Five-time Olympic champion rower Steve Redgrave backs Wiggins and Team Sky over doping report allegations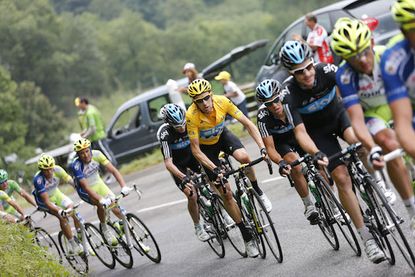 (Image credit: Yuzuru SUNADA)
Five-time Olympic gold medallist Steve Redgrave has come to the defence of Bradley Wiggins and Team Sky, saying that a parliamentary report released last week was wrong to focus on them as they did not break any rules, and that MPs should instead have focused on problems with the system and rules surround therapeutic use exemptions (TUEs).
A report from the Digital, Culture, Media and Sport Select Committee concluded that Team Sky used corticosteroids such as triamcinolone, which Wiggins received three TUEs for between 2011 and 2013, to enhance the performance of Wiggins and other riders.
The report says that Team Sky and Wiggins used triamcinolone "not to treat medical need, but to improve his power-to-weight ratio". Both Wiggins and Team Sky strongly deny the allegations made in the report, with Wiggins saying that he and the team "never crossed the ethical line".
>>> Geraint Thomas on Select Committee Team Sky allegations: 'I never experienced anything like that'
Former Olympic rower Steve Redgrave, who himself received insulin to treat diabetes for the final years of his career, says that if the evidence is there that Wiggins and Team Sky did not break any rules, then the rules themselves are what need to be scrutinised.
"If the system's wrong, we change the system. If this drug shouldn't be used for the treatment that it is and if it has enhancing properties, get it on to the banned list, it's as simple as that," Redgrave told the BBC.
"People keep saying Team Sky haven't done anything wrong but have stepped over the ethical line but if they've got all the right paper to prove they haven't done anything wrong then the system's wrong.
"If there is this grey area which has been introduced recently over the ethics of it - it's legal or it's not, simple as that - take away the grey area."
>>> If we want clean sport then someone's got to pay - but it's not Bradley Wiggins or Team Sky
Redgrave also said that it is the World Anti-Doping Agency and UK Anti-Doping who should have questions to answer about why the rules are the way they are.
UCI president David Lappartient has also talked about a "grey area" within the TUE system - which allows athletes to take otherwise banned drugs to treat medical conditions - but says that the rules have now been tightened.
""Just by a letter of support from the doctor, then it was not so difficult to get the TUE, which is something completely different now," Lappartient said.
"So you have to put this in the context of the time; the grey zone was too big and it seemed that this grey zone has been used by Team Sky at the time so, is it doping? Is it just using the rules? That is why the MPs' report just says they were not breaching the rules."
Thank you for reading 20 articles this month* Join now for unlimited access
Enjoy your first month for just £1 / $1 / €1
*Read 5 free articles per month without a subscription
Join now for unlimited access
Try first month for just £1 / $1 / €1