The price of losing a bet with Peter Sagan: Having his name tattooed on your leg
Bora-Hansgrohe team manager Ralph Denk bet Peter Sagan that he wouldn't win a third consecutive world title... and has paid the price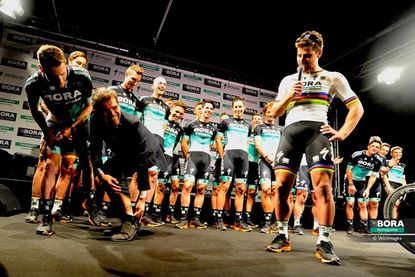 (Image credit: Bora-Hansgrohe/@veloimages)
When Bora-Hansgrohe team manager Ralph Denk had a bet with Peter Sagan that the Slovak star would not win a third consecutive road race world championship title he probably didn't consider the consequences.
Sagan, of course, did take the victory in Bergen, Norway, to claim a third consecutive rainbow jersey and so Denk was faced with having to come good on his bet.
The price the German former pro paid was to have a Peter Sagan tattoo on his lower left leg – a permanent reminder never to bet against Sagan winning a race.
>>> Peter Sagan says fourth consecutive world title 'not impossible' despite mountainous 2018 course
Sagan appeared to take pride in getting Denk to reveal the tattoo on stage during Bora-Hansgrohe's official 2018 team presentation in Germany on Thursday.
As Sagan took the microphone, he asked Denk to roll down his left sock and show the world the forfeit of losing his bet.
"I heard some rumours from the team, Ralph, that you have something new on your body. And I wanted to ask if it's true... and why" Sagan joked.
Denk replied: "When I promise something, then I do it. Peter came to me on the morning of the Worlds, and said 'if I win, you have to have a tattoo of my logo on your foot'. And yeah, I did it."
Appearing to challenge Sagan to go for a fourth world title, Denk added: "But Peter, there's still space on my right leg."
Along with Denk's tattoo, Bora-Hansgrohe also unveiled its new-look team clothing for the 2018 season.
Thank you for reading 5 articles this month* Join now for unlimited access
Enjoy your first month for just £1 / $1 / €1
*Read 5 free articles per month without a subscription
Join now for unlimited access
Try first month for just £1 / $1 / €1