From Tullio Campagnolo to Graeme Obree: 10 racing inventors that changed cycling
We look back at the pioneering racers who used brains as well as brawn to come up with new ideas to improve the performance of their bikes — innovative, groundbreaking designs that are still around today.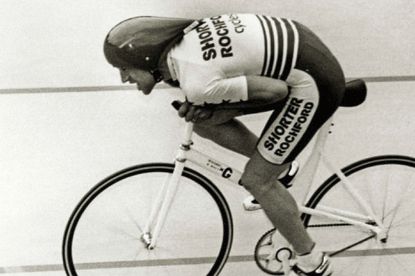 1. Tullio Campagnolo: quick-release (1930)
Tullio Campagnolo was the most effective racer-inventor in cycling history, not just for the manufacturing company he founded but for the longevity of his first invention.
As an enduring cycling design, the quick-release mechanism is only surpassed by the double-diamond frame and the spoked wheel.
Campagnolo grew up in his father's Vicenza hardware store taking things to bits and incorporating them in something else.
He was a good cyclist, a professional racer, who chanced upon his true vocation on a freezing cold day in 1927.
There was snow on the Croce d'Aune pass when Campagnolo suffered a puncture. In those days wheels were secured by wing-nuts, which saved the need to carry a spanner because they could be loosened by hand.
>>> Icons of cycling: Campagnolo Shamal wheels
But not by a freezing hand, as Campagnolo found out. Fumbling, the nuts wouldn't budge, and with no service allowed in races back then, he had to abandon.
Tullio swore to find a better way to secure a bike's wheels and by 1930 he had developed a lever-operated quick-release with the same basic design as quick-releases have today.
It was his first patent, and in 1933 he founded his company, Campagnolo S.r.l. Innovative and, always at the cutting edge of engineering, Tullio developed over 135 patents for all sorts of components before his death in 1983. His company is run by his son Valentino today.
2. René Vietto: down tube bottle cage (1939)
The down tube seems such an obvious place to carry a drinks bottle, you could be forgiven for thinking it has always been like that.
Not so — until René Vietto questioned the practice, racers carried their drinks bottles side-by-side in a double cage attached to their handlebars.
But two bottles, with liquid slopping around inside, mounted high up on the front of a bike does no favours for its handling and hardly helps its aerodynamics.
Like all our racer-inventors, Vietto thought long and hard about his sport, and was always looking for ways to perform better.
Shortly before the 1939 Tour de France he converted a double handlebar cage into a single, adapted its fittings, and mounted it on his bike's down tube.
He was convinced that carrying a bottle low down on his bike would improve its handling — it was basic physics, after all.
After he finished second overall, others quickly followed, using a single handlebar cage as well as a down tube cage. Then, in the 1960s, riders swapped the handlebar to a seat tube cage.
Watch: Buyer's guide: road bike groupsets
It wasn't the only trend Vietto set. Derailleur gears weren't allowed in the Tour de France until 1937, although they had been used by touring cyclists for years.
At first the pros only used multiple sprockets, not the double chainsets tourists used.
Vietto tried a double chainset during the limited racing programme of the Second World War, and liked it. He kept doing it after the hostilities, and others soon followed.
3. Roger Rivière: aerodynamic helmet (1958)
Any cyclist who wants to go fast soon becomes aware of air resistance. Air resistance is why early racers crouched low over their penny farthing bikes.
It's why dropped handlebars were invented, and it's why cycling clothing quickly became as close fitting as textiles allowed.
Anquetil wasn't alone in looking for aerodynamic refinements. In 1958 his countryman Roger Rivière won the world professional pursuit title in Paris wearing a silk jersey, silk shorts, and a clear plastic cover over his ribbed cycling helmet.
Pros didn't have to wear helmets in road races in Rivière's day, but on the track they did.
They wore rudimentary helmets called hairnets made from strips of leather sewn into tubes and stuffed with horsehair. They weren't particularly effective, and they certainly didn't improve aerodynamics.
But the plastic cover probably improved airflow slightly, and in winning the 1958 world title Rivière was the first rider ever to go under six minutes for the 5,000-metre pro pursuit distance.
>>> Is a long-tailed aero helmet faster?
A few weeks later he used the same set-up to break the world Hour record in Milan. It caught on.
Britain's Norman Sheil and Tom Simpson used plastic covers when they took gold and silver medals in the pursuit at the 1958 Commonwealth Games.
Olé Ritter and Eddy Merckx used extra-slim hairnets when they set new Hour records in 1968 and 1972, while Francesco Moser used a cloth cover to set his record in 1984.
By then a company called LAS was producing the first one-piece aerodynamic helmets.
4. Guillermo Timoner: multi-texture racing jersey (1960)
The most advanced skinsuits today are made from panels of different-textured materials. The different panels are placed where they most improve aerodynamics.
It's clever stuff, arrived at by hours of painstaking research in wind-tunnels and computer modelling.
However, like many things in cycling, using different textured materials in a single garment isn't new.
>>> How much faster does a skinsuit make you? (video)
A Spanish racer, Guillermo Timoner did it over 50 years ago. He was world professional motor-paced champion six times between 1955 and 1965, and he wore jerseys with wool fronts and silk backs in paced races.
His reason was: "The wool picked up some of the turbulent air coming off the back of the motorbike, so would pull me along because I sat quite upright, and the silk smoothed the airflow over my back."
5. Tom Simpson: modern racing saddle (1962)
Most modern saddles have light man-made bases, some form of cushioning and a bonded cover.
But until the 1960s all race saddles were made of thick leather. They were comfortable once broken in, but they required care, no two were the same, and they were heavy.
In 1962, in a collaboration with Tommasso Nieddu of Turin, Cino Cinelli started producing plastic saddles under the Unica-Nitor brand.
>>> Tom Simpson: A life in pictures
They were black or orange, very light, but very stiff, and rather uncomfortable. Britain's Tom Simpson changed that by adapting them, as fellow Brit pro Barry Hoban describes.
"Tom took a Unica-Nitor saddle, shaped and stuck some thin foam rubber to it and covered the lot with leather he cut from an old handbag.
"It was a bit Heath Robinson, but it was light and you could get two saddles the same.
"Tom eventually found a saddler in Paris who did the job for about £1, and he sold them to other riders. Unfortunately he never put a patent on his saddle."
6. Cino Cinelli: clipless pedals (1971)
Cino Cinelli was a pro racer from Montespertoli, Italy. He raced from 1937 to 1944 and always tried to improve his bike's performance.
He helped his older brother Giotto design stronger handlebars and stems, and used them in races.
In 1940 they founded Cicli Giotto Cinelli S.r.l., which Cino worked for when he stopped racing in 1944.
It was a success. In 1947 Cino lured one of Bianchi's top frame-builders to work for them and Cinelli frames were launched.
They soon became distinctive for their sloping fork crowns, another Cinelli innovation. Cino had loads, including a before-its-time version of the cassette hub called the Bivalent.
But it was 1971 when Cino's biggest idea went into production. It wasn't profitable for him because it was way ahead of its time, but it was the one idea of his that really changed cycling.
It was the M71 clipless pedal, which consisted of a chromed steel platform and an aluminium cleat.
>>> The best cycling clipless pedals
The Danish former Hour record holder, Olé Ritter often collaborated with Cinelli, and he was the first top pro rider to use M71 pedals when he attempted to break Eddy Merckx's Hour record in 1974.
"Some track riders tried bolting their shoes to their pedals, but I was the first to ride with an automated click pedal. We were 10 years too early though, people didn't want them," Ritter says.
Ritter was also an innovator. "I took a jersey and some shorts, both made from silk, to a lady and she put a zip in the back of the jersey and stitched the top and shorts together.
"I even had special shoes with laces in the back, not at the front. I used those in 1974, but not another suggestion made by Cino Cinelli. He thought I should use 26-inch wheels to improve aerodynamics."
Cinelli was way ahead of his time with that one too, and 26-inch front wheels started to be used on the track and in time trials towards the end of the 1970s.
They improved aerodynamics, but later the UCI banned different-sized wheels on race bikes.
7. Wesley Mason: Super Record chainring (1973)
Mason was the 1966 Commonwealth road race champion. He turned professional for the Viking-Trumann's Steel team in Britain in 1965, and from 1968 to 1971 rode for the Carlton Cycles pro team.
He was also a talented engineer, so Carlton's boss Gerald O'Donovan had Mason work part-time on special projects in his factory.
>>> Icons of cycling: Campagnolo Super Record derailleur
"One thing I did was build a very light one-off time trial bike. It had a lot of Gerald's ideas, like an integrated seatpost, but my contribution was drilling and cutting components to make them lighter.
"The bike had a Campag Record chainset, but like most alloy chainsets back then it was over-engineered.
"So I cut metal out of several places, and when Tullio Campagnolo visited the factory he liked it.
"He used what I'd done to design the chainrings for Campag's new top-of-the range groupset, the Super Record. They haven't changed all that much since," Mason told us.
8. Rik van Linden: neoprene overshoes (1974)
Some riders pulled extra socks over their shoes when it was cold, which helped keep their feet warm if it was dry, but not when it was wet.
This set the Belgian 1975 Tour de France green jersey winner Rik van Linden thinking.
"Scuba divers wore neoprene in cold water, so I thought why not get some neoprene diving socks, cut a hole in the sole for my shoe plates, and wear them over my cycling shoes.
"It worked, so I bought some neoprene diving gloves too," he says.
Watch: A buyer's guide to overshoes
In no time other pros had copied Van Linden and bike clothing manufacturers were buying in neoprene.
Neoprene overshoes went into production, and there is still no better cold weather shoe cover for a comparable price.
9. Pete Penseyres: aerodynamic handlebar position (1986)
In 1984 Jim Elliott came fourth in the Race Across America (RAAM) using centrally-placed armrests on his bike's handlebars.
This didn't go unnoticed, least of all by the winner, Pete Penseyres.
Indeed, Penseyres was so impressed with Elliott's idea that he adapted it, and in 1986 won the RAAM again, this time using a handlebar attachment that supported his forearms, allowing him to ride with his hands extended centrally in front of him.
It was essentially the aerodynamic position that time triallists and track racers use today.
>>> Q&A: How to go faster in time trials…
10. Graeme Obree: ultimate aerodynamic position on an upright bike (1993)
No piece about racer-inventors could be written without mentioning the best.
Graeme Obree doesn't just think outside the box, he invents new boxes.
He came to fame with a huge breakthrough in bicycle aerodynamics, and when officialdom thwarted that design, he came up with another, even better one.
>>> Icons of cycling: Graeme Obree's Old Faithful
Obree doesn't quite fit the brief of this piece because the Old Faithful Tuck and the Superman position cannot be used in competition today.
But they were works of genius, and they got cyclists thinking about aerodynamics in a way that still persists.
Look at the tuck position some modern pros adopt when descending and you will see Obree's thinking in action.
Thank you for reading 20 articles this month* Join now for unlimited access
Enjoy your first month for just £1 / $1 / €1
*Read 5 free articles per month without a subscription
Join now for unlimited access
Try first month for just £1 / $1 / €1