Rapha Condor: House home, Downing out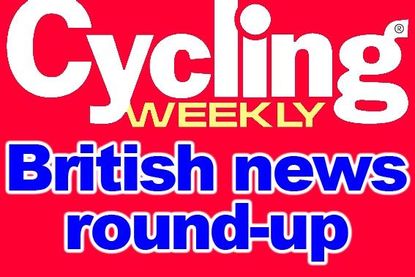 RAPHA-CONDOR: HOUSE HOME, DOWNING OUT
Hard working National road champion Kristian House is briefly back in the country from his usual winter in Australia before heading to Spain ahead of the team's training camp near Malaga.
Team manager John Herety told Cycling Weekly the official team launch to introduce the 12-man 2010 team would take place in London on January 28th. A "major new sponsor" will be announced in the coming weeks.
Meanwhile, circuit race specialist Dean Downing has been in the wars this week.
Having survived a day as a London courier with Cycling Weekly delivering Rapha parcels, the Yorkshireman headed home and came off worse in a collision with a car while training with brother Russell.
To add insult to injury, both Downings hit the deck at that evening's Revolution meeting.
"Two stiff knees and an aching back where Andy pulled out a splinter. What a day at the office yesterday was," Dean understated on Twitter.
Above: Dean Downing (left) with brother Russell is all smiles before hitting the deck at Revolution




BRAILSFORD REACTS TO OLYMPIC SHAKE-UP

Dave Brailsford may be working flat-out on putting the finishing touches to the Sky team, but he still had time to react to the changes in the Olympic programme, which will see - amongst other things - the individual pursuit race ditched in favour of the omnium.
"The issue of gender inequality within the Olympic track cycling events needed to be resolved and in that regard, I think the IOC move is to be applauded," Brailsford commented.
"The detail of how the parity could be achieved was by adding or removing events and there were always going to be winners and losers.
"It's a shame to have lost great events such as the individual pursuit, points and Madison, however I believe the UCI have been very creative to include the Omnium within which the Individual Pursuit and the Points Race will still figure."


BRITISH TEAM WITH ITALIAN CONNECTION

A new team hits the UK racing scene next year with a decidedly Italian flavour. Frezza-Pasta Montegrappa will be a six-man squad aiming to race both home and abroad with the backing of several Italian sponsors.
Major furniture group Doimo-Frezza will be familiar as co-sponsor of Liquigas while Pasta Montegrappa has a long association with professional cycling.
Carrera-Podium will supply bikes from its new Pantani range, distributed in the UK by JE James Cycles, who also support the squad.
Sporting manager, former Sport Beans rider Dave Coulson, is finalising the line-up with the six riders likely to hail from these shores.
"We have had some interest from Italian riders, but it does complicate things, so I don't want to pile too much uncertainty on what will be a very exciting project," he said.
Team manager Mauro Pizzol said: "This is a very exciting time in the British cycling scene. Media attention towards cycling in the UK has never been so high. With important partners supporting us, we believe that our team has the potential to grow at Pro Tour level."
The team line-up is expected to be announced early in the New Year.
DRAGON RIDE EXPANDS AND REBRANDS
The 2010 Dragon Ride has plans to expand and re-brand, part of which includes the addition of a third less-taxing 40km ride to complement the challenging 190 and 130km routes.
The sportive event has also teamed up with Wiggle and will be sponsored by the sportive-oriented Verenti Bikes, available to purchase from March.
Entries for the 2010 event go live at 00:00 on December 28.
More details can be found at www.dragonride.co.uk
ORBEA TEAM TAKING SHAPE AHEAD OF BUSY YEAR ON THE ROAD
The new Orbea For Goodness Shakes, formed from the structure of what was this year BMC, is rapidly coming together with the team recently having taken delivery of its bikes with training camps on the near horizon.
"We'll be getting together for a team ride on the December 29, riding out from Essex to Lowestoft in Suffolk to stay the night and then back on the 30th," explained team manager, James Whatling.
"We're really looking forward to this, to catch up with the guys post Christmas, get some solid base miles in and generally have some fun.
"Then we're meeting up again on January 3 to have a full team meeting, where the guys will be given their race programmes, bikes and kit, and we'll go over the season as a whole with them, discussing our aims and expectations."
While the team will be riding Orbea bikes, they have recently signed a deal to ride American Classic 420 and 350 wheelsets and a sponsorship deal with Sports Beans.
At present, the race programme is being decided upon but, "we're hoping to kick the season off with the Paris-Evreux on March 7," said Whatling.
"This is a bit of a French classic, and at 157km should be a good start to what is going to be a hard fought season. We'll then be back to the UK for the Jock Wadley, Wally Gimber and then the start of the Premier Calendar at the Tour of the Reservoir."
WOMEN-SPECIFIC BRAND STOCKED IN HARRODS
Women-specific cycle clothing brand AnaNichoola is now being stocked in Harrods along with a range of other cycling shops, including Corridori and Geoffrey Butler Cycles.
Harrods is stocking a range of products including the stylish Curve Jacket.
Javid Ditta, regional manager for Cycles UK in Harrods commented: "Our customers here demand products that are that bit extra special. After our success with LeCol we were on the look out for something different and women-specific."
ROLLAPALUZA'S BRASS MONKEY
After a successful inaugural winter series, Rollapaluza roller racing action returns to pubs and bars all over London for the second Brass Monkey series.
All events start at 18:00 with a 21:00 deadline for qualification, so get practicing you gurning and give it a go!
First two rounds:
Xmas Special. December 22 from 18.00 (500m)
The Horsehoe
24 Clerkenwell Close
EC1R 0AG
Round 2. January 12 2010 from 18.00 (1000m)
Imbibe Bar
172 Blackfriars Road
SE1 8ER
Thank you for reading 20 articles this month* Join now for unlimited access
Enjoy your first month for just £1 / $1 / €1
*Read 5 free articles per month without a subscription
Join now for unlimited access
Try first month for just £1 / $1 / €1